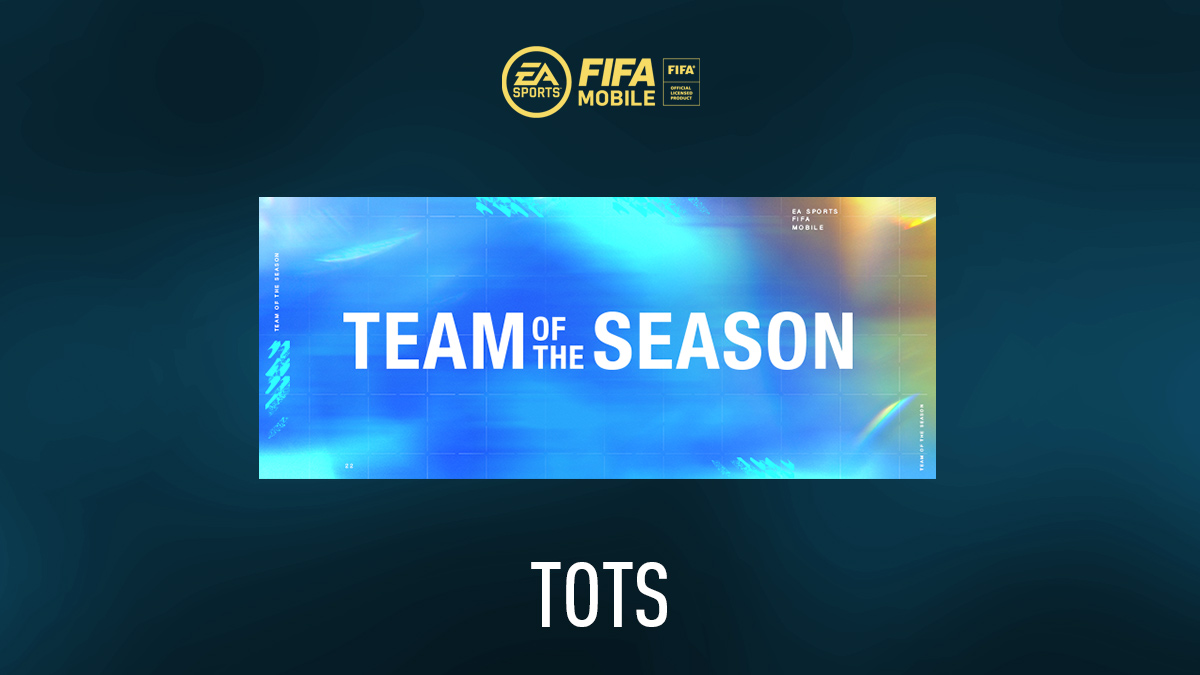 Team of the Season (TOTS) event is available in FIFA Mobile for 7 weeks from 5 May until 30 June 2021.
Play FIFA Mobile TOTS skill games, complete daily Quests, and play against other players to get in the top of Leaderboard and win exclusive rewards. Here is the schedule for TOTS event:
Community: May 5th – May 12th
Premier League: May 12th – May 19th
Future League: May 19th – May 26th
Future League: May 26th – June 2nd
Future League: June 2nd – June 9th
Future League: June 9th – June 16th
Ultimate TOTS: June 16th – June 30th
Let's get started by explaining how to use TOTS. When you go to the Live Events tile, you'll see three TOTS campaigns: Team of the Season, TOTS Pass, and TOTS Reserves. These Campaigns are not only accessible through Live Events, but EA have also included buttons in the Chapters to aid navigation.
---
Main
Begin by visiting the TOTS Campaign via Live Events. Collect your Daily Claim Rewards and compete in VS Attack and other Skill Games and Matches. League Points, TOTS Tickets, and Reserves Tokens are some of the most valuable awards. With the release of new Leagues, this Chapter and its rewards vary monthly.
The VSA Matches feature unique OVR and Lineup requirements, which are related to TOTS and Leagues. You should check your Division in H2H and VSA since two AI Matches in Division Rivals deliver awards based on your current division.
---
League Rewards
To find the Reward Paths for the various Leagues, go to the League Rewards Chapter. Convert your TOTS Tickets to League Points and use them in the League Rewards Chapter's Reward Path. Keep your TOTS Tickets until your desired League becomes available.
Use your League Points to obtain Resources, TOTS Tickets, Ultimate Exchange Tokens, and TOTS Starter Players from your chosen League in the Reward Path. The Milestones are progressed dependent on how many Points you have spent in each League. TOTS Tickets, an Enhanced Base Icon, and a Prime Icon are among the rewards.
---
Ultimate TOTS
Ultimate TOTS has some of the highest OVR players in the game right now. You can earn Ultimate Exchange Tokens by claiming players from the League Starters Reward Path. For Ultimate Points, combine these Ultimate Exchange Tokens with a League Starter.
Trade League Reserve Players for Ultimate Points in the Ultimate League Reserve Exchange. Ultimate Points are used to claim Ultimate TOTS Players, although there will be a separate Guide with more information closer to the debut of Ultimate TOTS.
---
TOTS Reserves
Reserves Tokens can be used in the League* Reserves Offer, which can be found in the League* Reserves Chapters. Claim the League* Reserves Offer for 200 Reserves Tokens and get Coins, Players, or TOTS Reserve Players, as well as progress towards the Milestones.
League Points, TOTS Tickets, Skill Boosts, and 89-95 OVR TOTS Reserve Players from that League are all part of the Milestone Reward Path.
Spend up to 4,400 Reserves Tokens in each Reserve chapter to get 3,000 TOTS Tickets from the Milestone to utilise in your preferred League Reward Path.
---
League Pass
The League Passes can be accessed via the Live Events or the Chapter links. Complete the Daily TOTS Quests and claim the TOTS Pass Credits to advance on all active League Passes. Earn League Points, Reserves Tokens, TOTS Tickets, 89-95 OVR Reserves Players, Coins, Skill Boosts, and Rank Items as you progress through the League* Pass.
---
Star Pass
A major event like TOTS warrants a large Star Pass. League Points, TOTS Tickets, Reserves Tokens, TOTS Emote, two new Stadiums, Logos, Training Transfer Items, Gems, 86+ OVR Global TOTS Players, TOTS Kit, Skill Boosts, Coins, Rankup Items, and Enhanced Event Icons are among the 125 tiers of outstanding rewards available during TOTS.
A 95 and 98 OVR Event Icon is included in the Premium Star Pass.
---
Quests
To earn League Points, Reserves Tokens, and progress toward all active League Passes, complete Daily TOTS Quests. Weekly Quests are a little more difficult to complete, but they come with higher rewards. To get League Points, TOTS Tickets, Reserves Tokens, and 89+ OVR League Reserve Players, complete them all!
Keep track of your Daily and Weekly Quests to make sure you finish them on time, and don't forget to do the Intro to TOTS Quests.
---
Daily Login
Log in every day to get Daily Login Rewards. Additional TOTS Tickets and Reserves Tokens are available. Daily Login Rewards are accessible after 19:00 UTC Reset Time.
---
Exchange
EA will have a range of Exchanges accessible during TOTS. Trade in 89+ League TOTS Players for League Points in League Specific Exchanges. After the League is unlocked, the League Exchanges will only be available for one week.
To trade in Gold+ and Elite+ Players for TOTS Tickets and Reserves Tokens, go to the Exchange for TOTS Tickets Exchanges and Reserves Tokens Exchanges, which commence every week on Monday.
Keep an eye on the Exchange for special Player Exchanges that will become available throughout the event, including untradable 94 OVR TOTS Reserves. Also, starting with the Eredivisie, check the Exchanges every Monday for new Global League Reserves and Starters.
---
Challenge Mode
Mode of Challenge
Challenge Mode is accessed via Live Events. Earn League* Points by playing matches on Fridays, Saturdays, and Sundays. The Conditions provide the requirements for these Matches. Every Challenge Mode will comprise 5 more challenging matches.
Pro Tip: Challenge Mode can earn you up to 1075 League Points! For a given League, that's up to 3225 League Points.