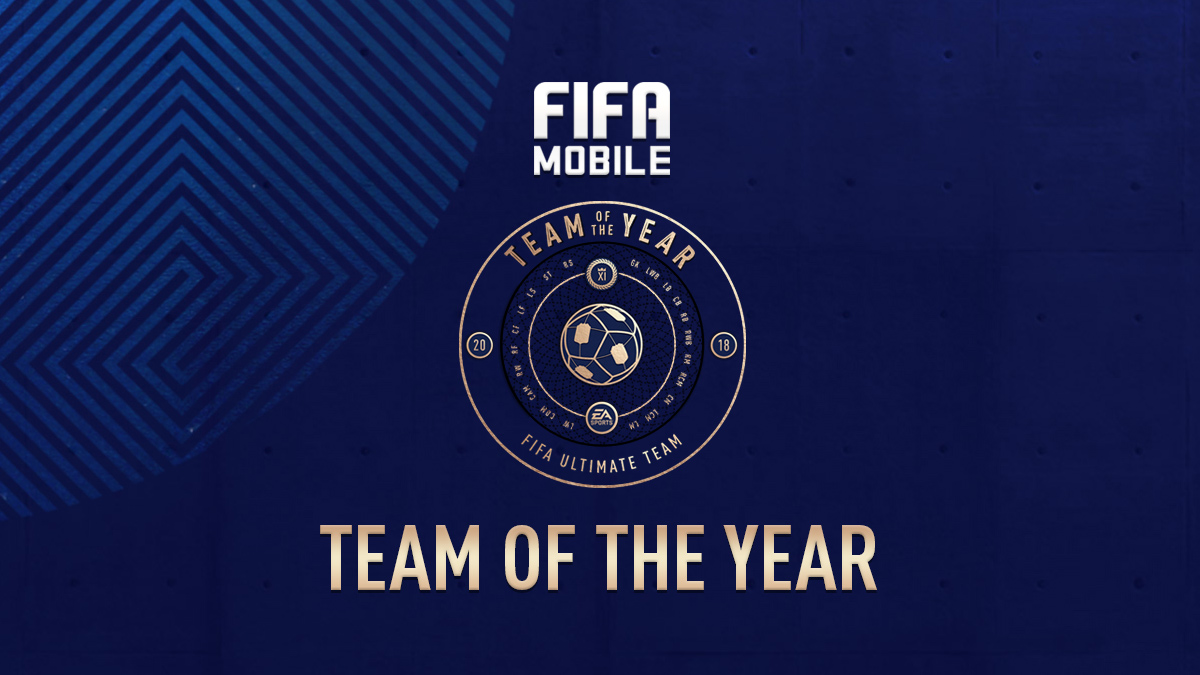 FIFA Mobile Team of the Year event is available from 8 January to 2 February 2019.
Play the Team of the Year (TOTY) event in FIFA Mobile, earn TOTY Points and claim TOTY special players. TOTY skill games refresh every 8 hours. By playing TOTY skill games you can earn Points which can be used to purchase Position Offers (TOTY Attackers, Midfielders and Defenders).
---
Chapters
TOTY has 4 chapters as follow:
Main
Attackers
Midfielders
Attackers
Main
In the Main chapter, you can play skill games and watch ads which which all refreshes every 8 hours to earn TOTY Points. Then you can earn position points by choosing a path (Attackers, Midfielders or Defenders) including Attacker Points, Midfielder Points and Defender Points.
Attackers
By spending Attacker Points, you can purchase offers in this chapter to earn rewards and claim TOTY players.
Midfielders
Spend your Midfielder Points in here to claim special offers and TOTY midfield players – This chapter will unlock at a later date during this event.
Defenders
Use your Defender Points in this chapter to withdraw offers and TOTY defenders – This chapter will unlock at a later date during TOTY event.
---
TOTY Players
Here is the list of TOTY special players you can earn in FIFA Mobile TOTY event:
Attackers
CF: Messi (96)
ST: C. Ronaldo (96)
ST: Mbappe (94)
LW: Neymar Jr (93)
LW: Hazard (92)
ST: Suarez (91)
RF: Lewandowski (90)
CF: Griezmann (90)
ST: Kane (89)
ST: Cavani (89)
ST: Aguero (89)
RW: Bale (88)
RW: Salah (96)
LF: Mane (86)
ST: Mandzukic (85)
Midfielders
RM: Reus (85)
CM: Matuidi (85)
LM: Perisic (86)
CM: Fernandinho (86)
CM: Rakitic (87)
CAM: Pogba (88)
CDM: Casemiro (88)
CDM: Sergio Busquets (85)
CAM: Isco (89)
CAM: Dybala (89)
CAM: David Silva (90)
CM: Kroos (90)
CDM: Kante (93)
CAM: De Bruyne (94)
CM: Modric (96)
Defenders & Goalkeepers
CB: Lovren (82)
RB: Vrsaljko (82)
LB: Hernandez (83)
RWB: Trippier (83)
RB: Walker (84)
RB: Carvajal (85)
CB: Manolas (86)
RB: Kimmich (86)
CB: Vertonghen (87)
LWB: Jordi Alba (87)
CB: Umtiti (87)
CB: Koulibaly (87)
CB: Thiago Silva (88)
CB: Hummels (89)
CB: Chiellini (89)
GK: Lloris (89)
CB: Hummels (89)
RB: Godin (90)
RB: Godin (90)
CB: Van Dijk (93)
RB: Godin (90)
CB: Varane (93)
LB: Marcelo (94)
CB: Sergio Ramos (95)
GK: Alisson (86)
GK: Oblak (90)
GK: Courtois (90)
GK: De Gea (95)
---
TOTY Packs
Team of the Year packs are available during this event for a limited time in the Store. These packs contain:
Attacker Packs
Attacker Bundle