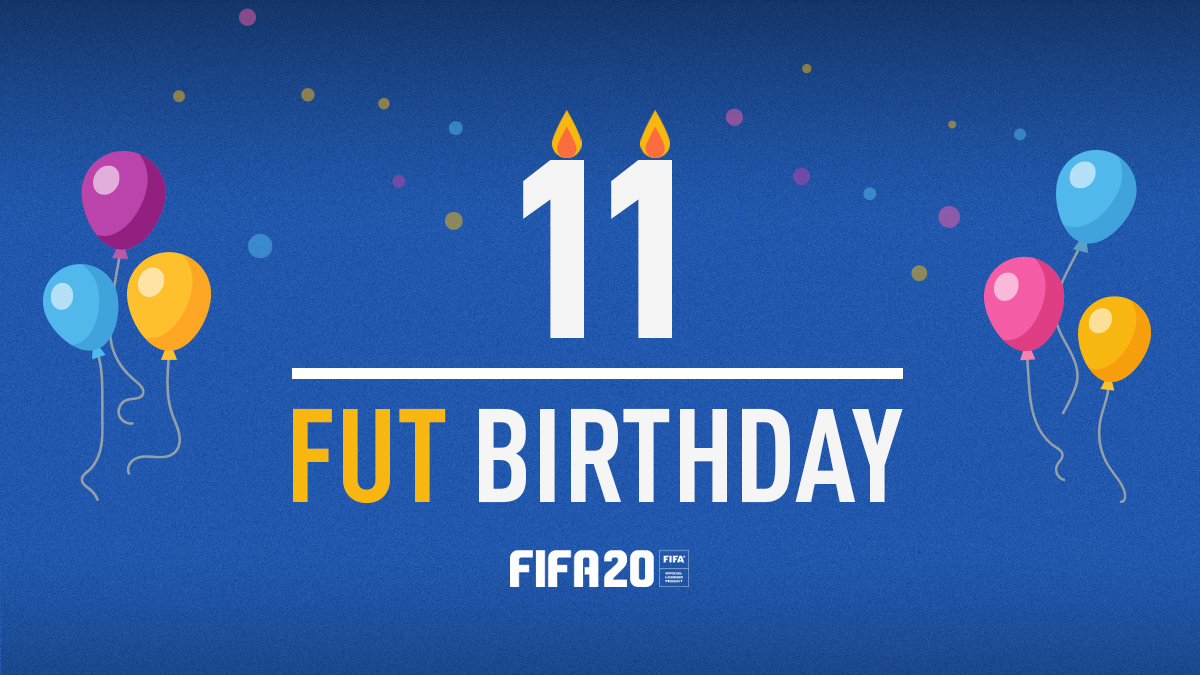 The FIFA Ultimate Team mode is turning 11 this year and EA Sports are celebrating the FUT Birthday FUT Birthday squad and some other events in FIFA 20 Ultimate Team.
The FUT's 11th Birthday is being celebrated on Friday, 27th of March 2020 (6pm) in FUT with FUT Birthday Squads, special Squad Building Challenges, Themed Objectives and pack offers.

FUT Birthday Squads and Players
Two teams of FUT Birthday players will be available in FUT during the FUT Birthday event (27 Mar to 10 Apr), each FUT Birthday player boosted with not only new upgraded ratings but also a special new upgrade:
For the first time, each FUT Birthday player will receive a 5 star upgrade to either their skill move (SM) or their weak foot (WF) rating. If they have received a 5 Star Skill Move upgrade, they will now be able to perform the full range of skills within FUT making them a unique and challenging threat for your opponents.
The in-game items that receive a 5 Star Weak Foot upgrade will have the same shooting and passing abilities with each of their feet. For players who like the flexibility to use both feet in gameplay, FUT Items with five-star weak foot ratings offer a significant advantage creating brand new options and playstyles for your Ultimate Team.
Beyond the upgraded 5 Star Skill Moves or Weak Foot upgrade, FUT Birthday items will also receive ratings boosts, making them some of the most desirable items in the game.
Squad 1
Here are the FUT Birthday players from the FUT Birthday Squad 1 available in packs and SBC challenges from 27 March to 3 April.
Squad 2
FUT Birthday Squad 2 will be available on 3 April (6pm UK).
Season Objective Players
SBC Players
---
Squad Building Challenges
Special limited-time SBCs are available during the FUT Birthday celebration. A select group of "FUT Favourites" will be released throughout the event via SBC, with a Flashback item type. Here is the complete list:
| SBC | Expiry | Reward |
| --- | --- | --- |
| FUT 12 | 2020-04-03 | Prime Gold Players Pack (Untradeable) x 1 |
| FUT 12 | 2020-04-03 | Prime Gold Players Pack x 1 |
| FUT 11 | 2020-04-02 | 84+ Rated Rare Player (Untradeable) x 1 |
| FUT 10 | 2020-01-31 | Prime Electrum Players Pack x 1 |
| Jordan Amavi | 2020-04-02 | FUT Birthday Amavi (Untradeable) x 1 |
| Birthday Wish | 2020-03-29 | Two 83+ Players Pack (Untradeable) x 1 |
| Mesut Özil | 2020-04-03 | FUT Birthday Özil (Untradeable) x 1 |
| FUT Birthday Kit | 2020-04-03 | Kit – FUT Birthday (Untradeable) x 1 |
| FUT 09 | 2020-03-30 | Rare Players Pack x 1 |
---
Engagement Streak Rewards
Throughout the event, you can earn rewards for consistent daily engagement in FUT. FUT Birthday Daily Objectives will be released throughout FUT Birthday. Complete all daily objectives to unlock the FUT Birthday Daily Completionist [AN9] [MJ10] group to earn additional rewards.
---
Bonus Weekend League Player Picks
Back again for a limited time, the second weekend of FUT Birthday will feature a special bonus objective offering additional player picks for those participating in the FUT Champions Weekend League.