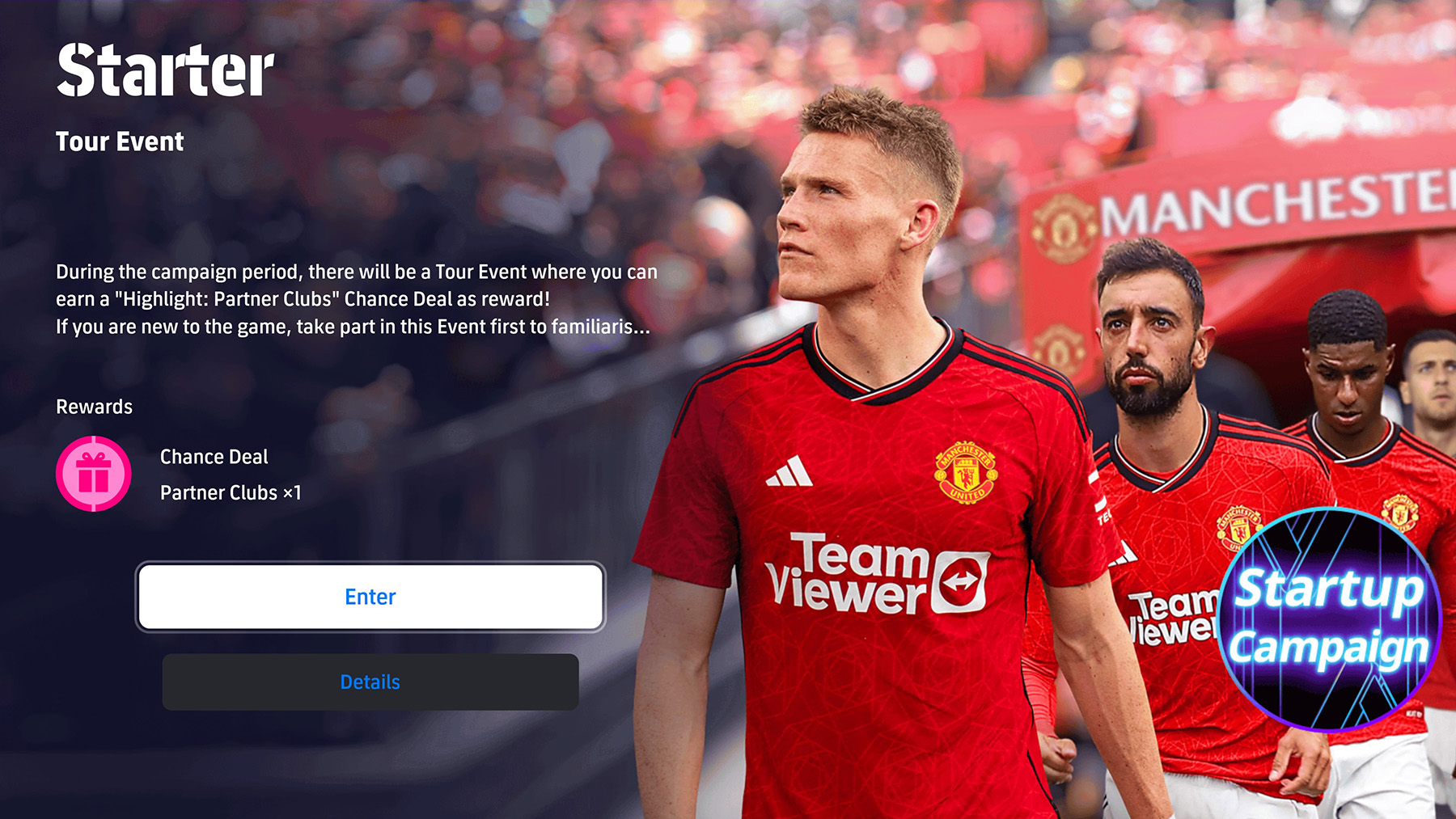 The eFootball 2024 Starter Event (Startup Campaign) starts on September 7, 2023, and will be available until October 5, 2023. By playing and completing this campaign using your dream team and playing online matches, you will be able to claim rewards such as GP, training programmes, and chance deals.
---
Event Details
Event Type: Tour Event
Team Type: Dream Team
Duration: 28 days (7 September – 5 October)
Related Missions: Startup
During the campaign period, there will be a Tour Event where you can earn a "Highlight: Partner Clubs" Chance Deal as reward. If you are new to the game, take part in this Event first to familiarise yourself with playing matches.
Accumulate 6,000 points and earn up to 2 chance deals, 450,000 GP, and 60,000 exp. Including players that have a "player bonus" in your game plan will garner you more event points than usual. Bring your best team to the pitch, play some matches, and receive your well-deserved rewards.
---
Rewards
Here is the list of Event Points Reward for this campaign:
| Points | Rewards |
| --- | --- |
| 500 | 50,000 GP |
| 1,500 | Chance Deal – Partner Clubs x1 |
| 1,500 | 50,000 GP |
| 2,000 | Exp. 10,000 Training Program x3 |
| 3,000 | 50,000 GP |
| 4,000 | 50,000 GP |
| 4,500 | Exp. 10,000 Training Program x3 |
| 5,000 | 50,000 GP |
| 5,500 | 50,000 GP |
| 6,000 | 100,000 GP |
| 6,000+ (After every 1K Points) | 100 GP |
---
Notes
Event bonuses and Event Conditions are based on the most recent in-game player data.
Event Point earnings are calculated individually for each event.
The event schedule and details are subject to change without prior warning.
Unscheduled maintenance may be held without prior notice to deal with urgent issues.
New matches cannot be started from 20 minutes before maintenance is scheduled to begin.
If maintenance is underway when a match ends, you may sometimes be unable to receive any rewards and the result may not be counted in your match records.
Exact start and end times may be affected b maintenance.
Appropriate action will be taken against users found to have violated the Terms of Use.