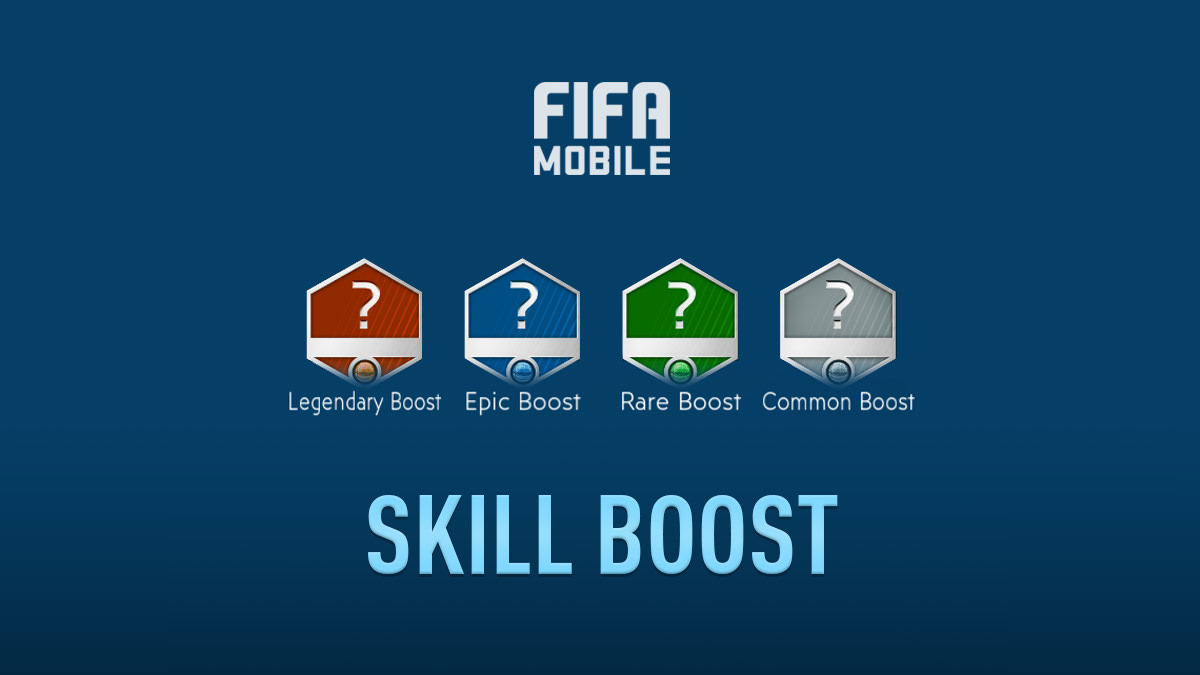 In FIFA Mobile, you can boost your players to increase their OVR and attributes by levelling Skill Boosts. Each player has a Skill Boost attached that provides increased attributes. The Skill Boost bonus is applied only when the player is on position.
Using the Skill Boost Items is a good way to improve your players skills in FIFA Mobile. Skill Boosts can be purchased or earned as rewards, once you own a skill boost item you can see it under MY TEAM > SKILL BOOSTS tab. You can apply your skill boost items to your team by levelling up them and see which players are affected with your owned skill boosts.
Skill Boosts are improving your players with the respective skill boosts by upgrading their player attributes. The higher level of boost you upgrade to, the higher percentage of boost percentage your players can gain.
There are 39 Skill Boosts in FIFA Mobile which have the following qualities:
Common
Rare
Epic
Legendary
Domination
---
How to Get Skill Boosts?
Skill Boost Items are available to purchase in packs. There are three packs containing Skill Boosts: Small Boost Pack, Medium Boost Pack and Large Boost Pack.
You can also earn Skill Boosts as rewards by playing VS Attack matches or Event matches.
---
How to Level Up your Skill Boosts?
You can level up your Skill Boost by collecting duplicates to increase the provided bonuses. Get more Skill Boosts to increase the attributes provided. Many players share the same Skill Boost, so levelling it will provide bonuses for all the affected players. Leveling Up Skill Boosts not only increases your player attributes, but is also a great way to earn XP and increase your User Level.
Once you earned a skill boost item, the item will go to your Skill Boosts section under My Team screen. If the skill boost item is able to level up its boost, it will be highlighted with green colour. Tap on it, there you will see the activated Level Up button, you need to spend coins to level up (the cost depends on the level you upgrade to). By pressing the Level Up button and paying the price you will be levelling up the current Skill Boost.
Once a Skill Boost reaches max level you can it Rank Up, increasing your team's OVR directly. The Rank Up bonus for each Skill Boost is added for each on position player with that Skill Boost, so it's a very powerful way of improving your Team OVR.
---
Skill Boosts List
Here is the complete list of Skill Boosts including their quality and the affected attributes:
Boost Item
Quality
Boosts
Agility
Common
Agility
Dribbling
Finishing
Balance
Reactions
Crossing
Common
Crossing
Marking
Long Passing
Vision
Curve
Defending
Common
Sliding Tackle
Heading
Balance
Marking
Long Passing
Free Kick
Common
Free Kick
Curve
Long Shot
Shot Power
Vision
Generalist
Common
Interceptions
Aggression
Reactions
Agility
Long Shot
GK Generalist
Common
Kicking
Reactions
GK Positioning
Long Passing
Handling
GK Positioning
Common
GK Positioning
Kicking
Reactions
Long Passing
Diving
Heading
Common
Heading
Jumping
Finishing
Strength
Reactions
Pace
Common
Sprint Speed
Acceleration
Agility
Long Passing
Crossing
Passing
Common
Short Passing
Long Passing
Crossing
Vision
Balance
Physical
Common
Strength
Aggression
Jumping
Sliding Tackle
Reactions
Positioning
Common
Positioning
Heading
Shot Power
Agility
Balance
Strength
Common
Strength
Jumping
Sliding Tackle
Balance
Heading
Acceleration
Rare
Acceleration
Positioning
Volley
Balance
Short Passing
Aggression
Rare
Aggression
Marking
Heading
Sliding Tackle
Jumping
Dribbling
Rare
Dribbling
Long Shot
Reactions
Volley
Finishing
GK Diving
Rare
Diving
Handling
Jumping
Long Passing
Reflexes
Handling
Rare
Handling
Kicking
Reactions
Long Passing
Reflexes
Long Passing
Rare
Long Passing
Vision
Agility
Interceptions
Curve
Long Shots
Rare
Long Shot
Vision
Shot Power
Ball Control
Long Passing
Reactions
Rare
Reactions
Interceptions
Sliding Tackle
Crossing
Dribbling
Short Passing
Rare
Short Passing
Positioning
Dribbling
Standing Tackle
Strength
Shot Power
Rare
Shot Power
Long Shot
Ball Control
Volley
Sprint Speed
Tackling
Rare
Standing Tackle
Sliding Tackle
Balance
Strength
Reactions
Ball Control
Epic
Ball Control
Short Passing
Dribbling
Balance
Crossing
Finishing
Epic
Finishing
Shot Power
Positioning
Jumping
Dribbling
Interceptions
Epic
Interceptions
Reactions
Standing Tackle
Aggression
Heading
Marking
Epic
Marking
Interceptions
Reactions
Heading
Short Passing
Reflexes
Epic
Reflexes
GK Positioning
Agility
Long Passing
Diving
Shooting
Epic
Long Shot
Finishing
Shot Power
Volley
Positioning
Speed
Epic
Sprint Speed
Ball Control
Agility
Positioning
Dribbling
Vision
Epic
Vision
Long Passing
Ball Control
Short Passing
Acceleration
Attacking
Legendary
Ball Control
Finishing
Sprint Speed
Reactions
Volley
Captain
Legendary
Dribbling
Short Passing
Ball Control
Vision
Agility
Counter
Legendary
Long Passing
Agility
Long Shot
Positioning
Vision
Holding
Legendary
Marking
Standing Tackle
Aggression
Acceleration
Strength
Number 1
Legendary
GK Positioning
Diving
Kicking
Reactions
Handling
Second Striker
Legendary
Finishing
Dribbling
Shot Power
Ball Control
Short Passing
Domination
Domination
Acceleration
Finishing
Dribbling
Shot Power
Agility