The Tournament mode in FIFA 23 allows you to play single player tournaments of the real countries such as FA Cup, Premier League, FA Cup, Bundesliga, DFB-Pokal and LaLiga, Uefa Champions League, Libertadores & Women's International Cup and to create your own custom tournaments.
---
How to Play the Tournament Mode
The Tournament Mode (known as Tournaments) is available in FIFA 23 under the PLAY MODES > TOURNAMENTS screen. After selecting this mode you will see the options you can choose to play this mode:
---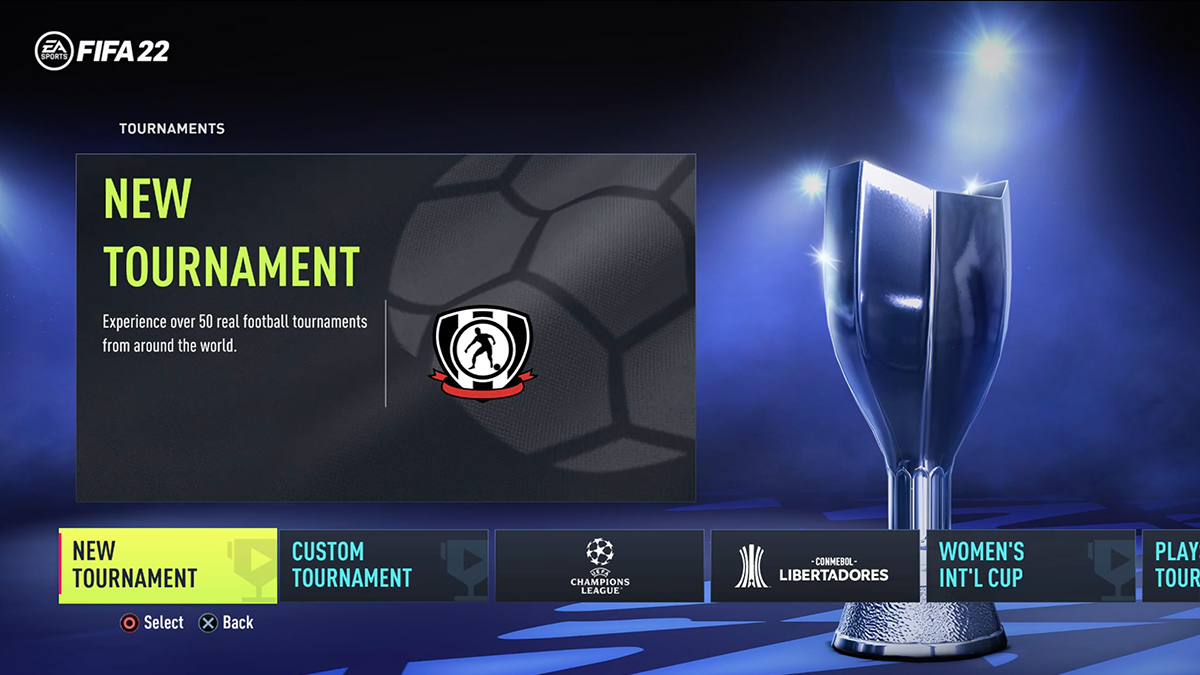 New Tournament
FIFA 23 Tournament Mode contains over 60 tournaments from 28 countries. Below is the complete list of these tournaments:
Argentina
Australia
Austria
Ö. Bundesliga
Österreich-Pokal
Belgium
Brazil
China
Denmark
3F Superliga
Sydbank Pokalen
England
Premier League
EFL Championship
EFL League One
EFL League Two
Emirates FA Cup
Caraboa Cup
Papa John's Trophy
France
Ligue 1 Uber Eats
Ligue 2 BKT
Coupe Nationale
Germany
Bundesliga
Bundesliga 2
3. Liga
DFB-Pokal
Supercup
India
Italy
Japan
Meiji Yasuda J1
Levain Cup
Korea Republic
Mexico
LIGA MX Apertura
LIGA MX Clausura
Netherlands
Norway
Poland
PKO Ekstraklasa
Puchar Kraju
Portugal
Liga Portugal
Taça Portugesa
Republic of Ireland
SSE Airtricity PD
EA SPORTS Cup
Romania
Saudi Arabia
Scotland
Spain
LaLiga Santander
LaLiga SmartBank
Copa de España
Sweden
Switzerland
Turkey
United States
---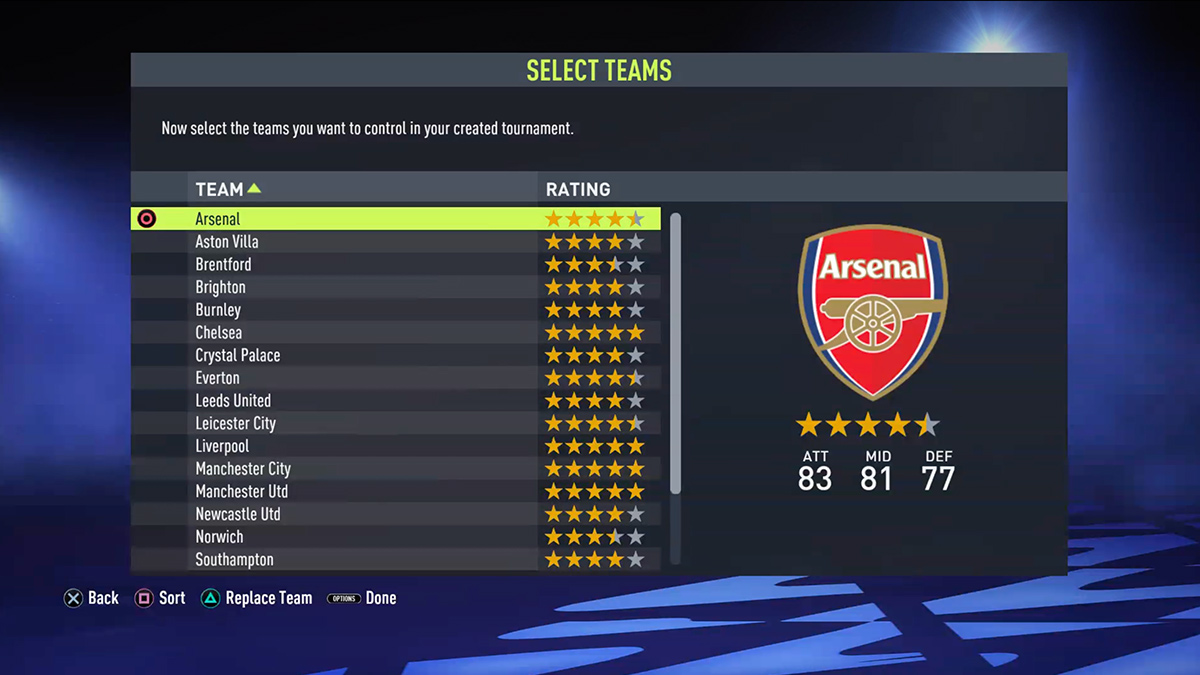 Custom Tournament
In FIFA 23, you also can create your own custom tournament. Here are the types of tournaments you can choose yo create your own tournament.
League (Maximum number of teams: 24)
Knockout (Maximum number of teams: 64)
Group and Knockout (Maximum number of teams: 64)
After selecting your tournament type, you need to select your tournament's teams. Then, you can already start playing your custom made tournament.
---
UEFA Champions League
This option will allow you set up a UEFA Champions League tournament with 32 clubs from the real-life UEFA Champions League 2022-2023 season, but you can replace any of these team with any available European clubs from FIFA 23 teams.
To set up an UCL tournament, select this tournament type, choose your team(s), then start playing. UCL tournament starts from the Group Stage phase.
---
CONMEBOL Libertadores
Select this mode if you would like to play the Copa Libertadores de América. There are 32 teams in this tournament, all replaceable with any available club from CONMEBOL, Argentina or Brazil.
Select your team(s) and start playing CONMEBOL Libertadores in FIFA 23.
---
Women's International Cup
You can play a women's Group & Knockout tournament (similar to FIFA Women's World Cup) in this tournament mode. There are 16 teams to select from and they will be placed in four groups. First, select your team(s) from the list:
Australia
Belgium
Brazil
Canada
China RP
England
France
Germany
Mexico
Netherlands
New Zealand
Portugal
Scotland
Spain
Sweden
United States
Then rearrange or confirm the groups and start playing.
---
PlayStation/Xbox Tournaments
This option will allow you to apply and play the available official 1v1 online matches organised by EA or your consoles developers. These tournaments usually are organised locally or globally and come with prizes.
Take note that these tournaments are online matches and you will be playing against other FIFA users.