New to FIFA 14? Here are some tips and tricks for FIFA 14 beginners which could be also useful for FIFA 14 pro gamers who want to learn some basic FIFA 14 tutorials. By learning advices given below, you could be improving your basic skills at FIFA 14: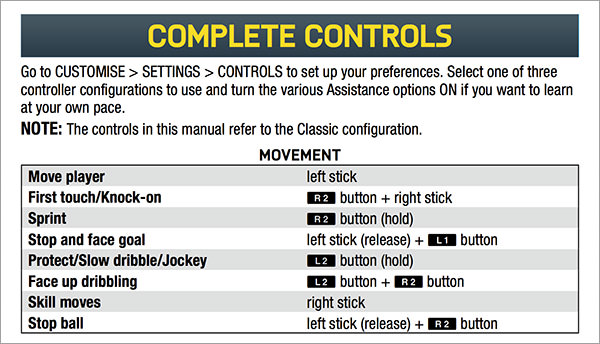 Download FIFA 14 Manual
First off, download FIFA 14 manuals and get familiar with the buttons and controls. FIFA 14 Manuals will also teach you how do basic skills moves in FIFA 14.
Your Squad and its Formations
Choose your team and go to the team management to place the best players in your starting 11 – Don't forget to have good players on your bench as well. Since FIFA 14 updates its squads online based on real life's football events at least once a week, take a look at the reserved list and subs to move back the best players who are not in the starting 11 after every online updates.
Then, go to the team formation to shape your team at its best. If you are not sure what formation suits you, don't worry, you can decide after playing a few training matches. Once you have done this, go back to the team management to double check if all the best players are in their very right positions.
Make sure you have the best strikers, defenders and midfielders in your starting XI.
Training and Skill Games
Before you start a match, go to PLAY > + MORE > PRACTICE ARENA game mode in FIFA 14 menu. There, press SELECT button to open up the PRACTICE ARENA menu. Choose PRACTICE MATCH and play a practice match. I would suggest you to play as the defending team with maximum 9 defenders against 11 attackers, doing this would help you to power up your defending skills, remember to win a match you need first to know how to not receive any goals. After some defending skills improvements, you can play as the attacking team with less attackers than defenders.
Playing Skill Games would be a good idea to improve your skills. To do so, go to PLAY > SKILL GAMES in FIFA 14 Menu and follow the steps there. Start with passing (ground pass), shooting, dribbling, defending and so on. This might take a bit long and be a little bit boring, but try to get at least the Bronze Level done.
Passing
Passing is the key and is the most important thing when you're playing a match. After getting familiar with passing buttons, you should be able to complete all of your passes and to control the ball properly. You should be also capable to know when to do short passes and when to do long ones. The best practice to keep the ball between your team mates is to complete minimum 5-6 successful passes every time you get the ball and then plan an attack. If you lost the ball, try to get it back with tackles and start strategising a scoring attack with passing the ball perfectly.
Learn How to Defend
As mentioned above, defending is the key to win a match. Before experiencing how to score at FIFA 14 you should know how to defend. To do so, you need to have your best defenders in your starting eleven. Choose the ones with highest heading and sprint rates. Tall defenders are potentially useful to neutralise crosses. Here is an article on How to defend in FIFA 14. Read this article to improve your defending skills.
Learn How to Score
After improving your skills on defending, you should be able to know how to score goals at FIFA 14. But before this, you need to know how to strategise an attack. Passing, dribbling and shooting are the key to plan attacks, otherwise your plan won't progress. Sprinting is also important, you must know when to run fast and when not. Here is a video for you to watch to do an effective attack in FIFA 14. Here also you can watch a video tutorial which shows you some tips on sprinting in FIFA 14. To get familiar with the controls for passing, dribbling and shooting, make sure you have downloaded FIFA 14 manuals beforehand.
Don't forget that you need to have more than one plan for scoring. Do not stick with just one or two plans. Crosses and sending aerial balls from the sides to your attackers to score are good but you need just more than that. Try shots from far – behind your opponents penalty box to hit the back of the net. Try to get in to your opponents box and dribble their defenders to score goals. Try to make 1-On-1 situations. Make the most of each attack you make, try to get minimum a corner kick or a set piece of any attack you do if you cannot finish up with a goal.
Play Online
Play online games. Playing only against CPU won't help your creativity. Go to PLAY > + MORE > HEAD TO HEAD online matches and see how other FIFA 14 players play the game. You can learn many tricks from other gamers around the world when playing online. FIFA 14 has many online game modes, but before playing ranked online games, it would be better to play some unranked matches at HEAD TO HEAD. Playing online against some real players would help you to be more creative.
Get Familiar with FIFA Terms
We have provided a FUT Glossary which includes the terms and abbreviations used in FIFA 14 and FUT 14. Go through this FIFA 14 Glossary and learn more about FIFA.
Read More Advanced Tips
There is a FIFA 14 Tips page at FIFPlay website which contains many FIFA 14 tips and tutorials. We have also a FIFA 14 Premier Guide which gives you lessons on how to be a pro at FIFA 14 written by FIFA 14 pro gamers.
– FIFA 14
– FIFA 14 Cheats
– FIFA 14 Guide
– FIFA 14 Ultimate Team