EASFC Catalogue is a shopping catalogue in FIFA 18 that offers special and boost items that can be used in Ultimate Team, Online, Career game modes and the general gameplay. To purchase EASFC Catalogue items you need to spend your Football Club Credits (FCC). Each item requires a specific Football Club Level to be unlocked.
How to Access EASFC Catalogue
Throughout the game, you can access EA SPORTS Football Club (EASFC) from the widget located in the upper right corner of the screen. The EASFC widget shows your current Football Club Level, XP, and FCC. Use FCC to buy items from the EASFC catalog, or send them as gifts to your Friends. EASFC requires a connection to EA servers. Press the R3 button to access the EASFC Catalogue.
Below is the complete list of EASFC catalogue items including their prices and required unlock levels:
Ultimate Team
These items can be applied and used in the Ultimate Team mode only.
FUT Coin Reward Boost
These items will give you additional FUT Coins for certain number of matches.
| Reward | Unlock Requirement | Price (FCC) |
| --- | --- | --- |
| 200 Coins x 5 Matches | LVL 2 | 500 |
| 200 Coins x 5 Matches | LVL 5 | 500 |
| 200 Coins x 10 Matches | LVL 8 | 500 |
| 200 Coins x 10 Matches | LVL 10 | 750 |
| 200 Coins x 15 Matches | LVL 12 | 1,250 |
| 200 Coins x 15 Matches | LVL 16 | 1,250 |
| 1000 Coins x 5 Matches | LVL 18 | 2,000 |
| 1000 Coins x 5 Matches | LVL 20 | 2,000 |
| 1000 Coins x 10 Matches | LVL 22 | 3,500 |
| 1000 Coins x 10 Matches | LVL 25 | 3,500 |
| 1000 Coins x 10 Matches | LVL 30 | 3,500 |
| 1000 Coins x 15 Matches | LVL 35 | 4,500 |
| 1000 Coins x 15 Matches | LVL 40 | 4,500 |
FUT 99 Match Player Contracts
A contract item that will increase a FUT player's contract length to 99 matches
| Item | Unlock Requirement | PRICE (FCC) |
| --- | --- | --- |
| 99 Match Player Contract Item | LVL 3 | 700 |
| 99 Match Player Contract Item | LVL 9 | 700 |
| 99 Match Player Contract Item | LVL 15 | 700 |
| 99 Match Player Contract Item | LVL 22 | 700 |
| 99 Match Player Contract Item | LVL 29 | 700 |
FUT Extra Squad Slot
This item will allow you to create a new squad in Ultimate Team
| Details | Unlock Requirement | PRICE (FCC) |
| --- | --- | --- |
| 1 Extra Squad Slot | LVL 5 | 350 |
| 1 Extra Squad Slot | LVL 7 | 350 |
| 1 Extra Squad Slot | LVL 9 | 350 |
| 1 Extra Squad Slot | LVL 11 | 350 |
| 1 Extra Squad Slot | LVL 13 | 350 |
| 1 Extra Squad Slot | LVL 15 | 350 |
| 1 Extra Squad Slot | LVL 17 | 350 |
| 1 Extra Squad Slot | LVL 19 | 350 |
| 1 Extra Squad Slot | LVL 21 | 350 |
| 1 Extra Squad Slot | LVL 23 | 350 |
FUT +10 Increased Transfer List Size
This item will increase your Transfer List size limit by 10
| Details | Unlock Requirement | Price (FCC) |
| --- | --- | --- |
| +10 Increased Transfer List Size | LVL 10 | 350 |
| +10 Increased Transfer List Size | LVL 15 | 350 |
| +20 Increased Transfer List Size | LVL 30 | 600 |
| +30 Increased Transfer List Size | LVL 45 | 900 |
FUT Increased Transfer Targets Pile Size
This item will allow you to manually add 50 items into your Transfer Targets in FUT
| Details | Unlock Requirement | Price (FCC) |
| --- | --- | --- |
| +50 Increased Transfer Targets Pile Size | LVL 20 | 1,500 |
FUT Kit Pack
Custom kits in Ultimate Team
Kit
Unlock Requirement
Price (FCC)
Run the Jewels FUT Kit Pack
Custom kits created by FIFA 18 Soundtrack artists
LVL 14
1,000
Soundtrack Artist FUT Kit Pack
Custom kits created by FIFA 18 Soundtrack artists: ZHU, Bloc Party, Capital Cities, Glass Animals, Grouplove, La Maitre, Saint Model & Catfish and The Bottlemen
LVL 40
4,000
Other
Other EASFC Catalogue Items that can be used in FUT
| Details | Unlock Requirement | Price (FCC) |
| --- | --- | --- |
| FUT Club Change Name | LVL 20 | 2,000 |
FUT Loan Players
Redeem these player items to sign these players as loan players in FUT
| Player | Loan Length | Unlock Requirement | Price (FCC) |
| --- | --- | --- | --- |
| Gianluigi Donnarumma | 12 Matches | LVL 16 | 800 |
| Gianluigi | 12 Matches | LVL 20 | 1,000 |
| Thomas Lemar | 10 Matches | LVL 16 | 800 |
| Nabi Keita | 9 Matches | LVL 24 | 1,500 |
| Kalidou Koulibaly | 8 Matches | LVL 26 | 1,600 |
| Niklas Suele | 8 Matches | LVL 28 | 1,6-00 |
| Alexandre Lacazette | 8 Matches | LVL 30 | 1,800 |
| Radja Nainggolan | 7 Matches | LVL 32 | 2,000 |
| Toby Alderweireld | 7 Matches | LVL 34 | 1,800 |
| Diego Godin | 6 Matches | LVL 37 | 2,500 |
| Iniesta | 6 Matches | LVL 38 | 2,800 |
| Pierre-Emerick Aubameyang | 6 Matches | LVL 40 | 2,800 |
| Gonzalo Higuain | 5 Matches | LVL 42 | 3,200 |
| Thiago Silva | 5 Matches | LVL 43 | 3,000 |
| Mesut Oezil | 5 Matches | LVL 44 | 3,200 |
| De Gea | 4 Matches | LVL 46 | 3,000 |
| Eden Hazard | 4 Matches | LVL 47 | 3,600 |
| Manuel Neuer | 5 Matches | LVL 48 | 3,300 |
| Cristiano Ronaldo | 3 Matches | LVL 50 | 4,000 |
---
Career
Catalogue items that can be used in the Career Mode
| Reward | Unlock Requirement | Price (FCC) |
| --- | --- | --- |
| Career Pro Undershit | LVL 4 | 500 |
| Manager Career Focused Training | LVL 5 | 400 |
| Scout Future Star | LVL 5 | 400 |
| Career Rematch Ability | LVL 5 | 2,000 |
| Player Career Focused Training | LVL 6 | 400 |
| Career Vpro Giant Afro | LVL 6 | 500 |
| Career Cpro Tight Kit | LVL 7 | 500 |
| Manager Career Focused Training | LVL 7 | 850 |
| Player Career Focused Training | LVL 8 | 850 |
| Manager Career Focused Training | LVL 9 | 1,200 |
| Scout Future Star | LVL 10 | 800 |
| Financial Takeover | LVL 10 | 1,000 |
| Player Career Focused Training | LVL 10 | 1,200 |
| Manager Career Focused Training | LVL 11 | 1,750 |
| Career Pro Black Gloves | LVL 12 | 500 |
| Player Career Focused Training | LVL 12 | 1,750 |
| Cout Future Star | LVL 15 | 1,000 |
| Edit Player In Career | LVL 15 | 1,500 |
| International Manager Offer | LVL 15 | 1,500 |
| Career Pro High Socks | LVL 18 | 500 |
| Scout Future Star | LVL 20 | 1,350 |
| Scout Future Star | LVL 23 | 1,700 |
| Financial Takeover | LVL 25 | 3,000 |
| Scout Future Star | LVL 26 | 2,000 |
| Scout Future Star | LVL 28 | 2,350 |
| Scout Future Star | LVL 30 | 2,800 |
| Scout Future Star | LVL 32 | 3,150 |
| Financial Takeover | LVL 35 | 5,000 |
---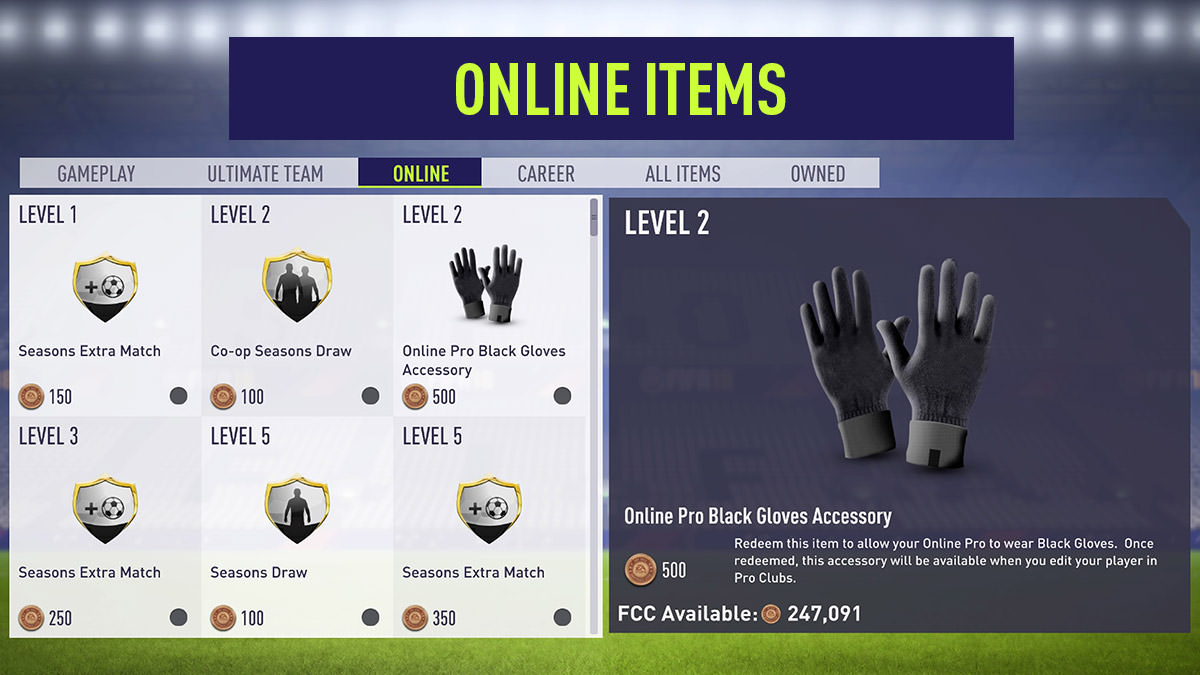 Online
Items for Online Mode (Including Seasons, Co-op Seasons and Pro Clubs)
| Reward | Unlock Requirement | Price (FCC) |
| --- | --- | --- |
| Seasons Extra Match | LVL 1 | 150 |
| Co-op Seasons Draw | LVL 2 | 100 |
| Muevelo Online Pro Black Gloves Accessory | LVL 2 | 500 |
| Seasons Extra Match | LVL 3 | 250 |
| Seasons Draw | LVL 5 | 100 |
| Seasons Extra Match | LVL 5 | 100 |
| Co-op Seasons Draw | LVL 6 | 100 |
| Seasons Win | LVL 6 | 100 |
| Co-op Seasons Extra Match | LVL 7 | 100 |
| Seasons Draw | LVL 7 | 100 |
| Online Pro High Socks Accessory | LVL 7 | 500 |
| Seasons Extra Match | LVL 7 | 500 |
| Seasons Draw | LVL 9 | 500 |
| Seasons Extra Match | LVL 9 | 600 |
| Co-op Seasons Draw | LVL 10 | 500 |
| Online Pro Under Armour Shirt Accessory | LVL 10 | 500 |
| Online Vpro Tight Kit | LVL 10 | 500 |
| Seasons Win | LVL 10 | 700 |
| Co-op Seasons Extra Match | LVL 11 | 300 |
| Seasons Extra Match | LVL 11 | 750 |
| Cop-op Seasons Win | LVL 12 | 500 |
| Seasons Draw | LVL 12 | 700 |
| Seasons Extra Match | LVL 13 | 850 |
| Seasons Draw | LVL 13 | 900 |
| Co-op Seasons Draw | LVL 14 | 700 |
| Seasons Win | LVL 14 | 1,000 |
| Co-op Seasons Extra Match | LVL 15 | 500 |
| Seasons Extra Match | LVL 15 | 1,000 |
| Seasons Draw | LVL 15 | 1,100 |
| Co-op Seasons Draw | LVL 16 | 700 |
| Seasons Extra Match | LVL 17 | 1,100 |
| Seasons Draw | LVL 17 | 1,300 |
| Co-op Seasons Draw | LVL 18 | 900 |
| Co-op Seasons Win | LVL 18 | 1,200 |
| Seasons Win | LVL 18 | 1,300 |
| Co-op Seasons Extra Match | LVL 19 | 700 |
| Seasons Extra Match | LVL 19 | 1,200 |
| Co-op Seasons Win | LVL 20 | 1,500 |
| Seasons Draw | LVL 20 | 1,500 |
| Seasons Cup Unlock | LVL 20 | 2,000 |
| Seasons Extra Match | LVL 21 | 1,300 |
| Seasons Win | LVL 21 | 1,500 |
| Co-op Seasons Win | LVL 22 | 1,200 |
| Seasons Draw | LVL 22 | 1,700 |
| Co-op Seasons Extra Match | LVL 23 | 900 |
| Seasons Extra Match | LVL 23 | 1,400 |
| Seasons Win | LVL 23 | 1,750 |
| Seasons Draw | LVL 23 | 1,900 |
| Co-op Seasons Draw | LVL 24 | 1,500 |
| Seasons Extra Match | LVL 25 | 1,500 |
| Seasons Win | LVL 25 | 100 |
| Seasons Draw | LVL 26 | 100 |
| Co-op Seasons Extra Match | LVL 27 | 100 |
| Seasons Extra Match | LVL 27 | 100 |
| Seasons Draw | LVL 28 | 100 |
| Seasons Win | LVL 25 | 2,000 |
| Seasons Draw | LVL 26 | 2,100 |
| Co-op Seasons Extra Match | LVL 27 | 1,100 |
| Seasons Extra Match | LVL 27 | 1,600 |
| Seasons Draw | LVL 28 | 2,300 |
| Seasons Extra Match | LVL 29 | 1,700 |
| Seasons Draw | LVL 30 | 2,500 |
| Co-op Seasons Extra Match | LVL 31 | 1,250 |
| Seasons Extra Match | LVL 31 | 1,800 |
| Seasons Draw | LVL 31 | 2,700 |
| Co-op Seasons Extra match | LVL 33 | 1,450 |
| Seasons Extra Match | LVL 33 | 1,900 |
| Co-op Seasons Extra Match | LVL 35 | 1,600 |
| Seasons Extra Match | LVL 35 | 2,000 |
| Co-op Seasons Extra Match | LVL 37 | 1,800 |
| Seasons Extra Match | LVL 37 | 2,200 |
| Seasons Extra Match | LVL 39 | 2,400 |
| Co-op Seasons Extra Match | LVL 40 | 2,000 |
| Seasons Extra Match | LVL 41 | 2,600 |
---
Gameplay
General gameplay catalogue items
| Reward | Unlock Requirement | Price (FCC) |
| --- | --- | --- |
| Muevelo Goal Celebration | LVL 1 | 100 |
| Muscle Flex Goal Celebration | LVL 2 | 250 |
| Prancing Birld Goal Celebration | LVL 2 | 250 |
| adidas Glider Balls Bundle | LVL 2 | 500 |
| Push Ups Goal Celebration | LVL 3 | 300 |
| Tight Here Right Now Goal Celebration | LVL 3 | 300 |
| Calm Down Goal Celebration | LVL 4 | 400 |
| Dance Goal Celebration | LVL 4 | 400 |
| The Work Goal Celebration | LVL 4 | 400 |
| The Bear Goal Celebration | LVL 5 | 500 |
| Voit Liga MX Pink | LVL 6 | 300 |
| Hand Bite Goal Celebration | LVL 6 | 600 |
| Atletico Madrid Historic Kit | LVL 7 | 400 |
| Chelsea Historic Kit | LVL 7 | 400 |
| FC Bayern Historic Kit | LVL 7 | 400 |
| Juventus Historic Kit | LVL 7 | 400 |
| Manchester City Historic Kit Bundle | LVL 7 | 400 |
| PSG Historic Kit Bundle | LVL 7 | 400 |
| adidas All-Star Team | LVL 7 | 1,500 |
| 2017 AT&T MLS All-Star Team | LVL 8 | 1,500 |
| Nike Mercurial Superfly V – CR7 Chapter 4 | LVL 9 | 350 |
| adidas Krasava Winter OMB | LVL 10 | 300 |
| adidas Glider Balls Bundle II | LVL 10 | 500 |
| Patty Cake Goal Celebration | LVL 10 | 800 |
| adidas ACE 17+ PURECONTROL Pyro Storm | LVL 11 | 350 |
| Umbro Neo – White/Blue | LVL 12 | 300 |
| Gallop Dance Goal Celebration | LVL 12 | 950 |
| Old Man Goal Celebration | LVL 12 | 950 |
| adidas Nativo | LVL 15 | 300 |
| Hummel Blade PLUS | LVL 15 | 300 |
| adidas COPA 17.1 Pyro Storm | LVL 15 | 350 |
| adidas J.League Balls Bundle | LVL 15 | 500 |
| Motorbike Goal Celebration | LVL 15 | 500 |
| Stand Tall Goal Celebration | LVL 15 | 1,100 |
| Kiss the Wrist Goal Celebration | LVL 16 | 1,250 |
| Puma One 17.1 FG – Puma Black/Silver | LVL 17 | 350 |
| adidas NEMEZIZ 17+ Pyro Storm | LVL 19 | 350 |
| adidas Argentum | LVL 20 | 300 |
| adidas Nemeziz Messi 17+ Ocean Storm | LVL 23 | 350 |
| adidas MLS All-Star | LVL 25 | 300 |
| Joma Aguila Pro FG | LVL 25 | 350 |
| Bailando Robot Goal Celebration | LVL 25 | 3,000 |
| KO Goal Celebration | LVL 25 | 3,000 |
| Joma Champion Max Black White HG | LVL 27 | 350 |
| adidas X 17+ 360SPEED Pyro Storm | LVL 29 | 350 |
| Uhlsport Balls Bundle | LVL 30 | 500 |
| Joma Champion Max Royal Fluo Yellow | LVL 33 | 350 |
| Nike Mercurial Vapor XI – Black | LVL 33 | 350 |
| adidas Torfabrik Balls Bundle | LVL 34 | 500 |
| PUMA EvoPOWER1 Italy | LVL 36 | 300 |
| Under Armour Spotlight – White/Phoenix | LVL 39 | 350 |
| Under Armour Spotlight – Black/Viper | LVL 41 | 350 |
| Voit Liga MX | LVL 42 | 300 |
| Nike Ordem V League Balls Bundle | LVL 42 | 700 |
| Nike Ordem 4 Campeonate Scotibank | LVL 45 | 300 |
| adidas Nemeziz Balls Bundle | LVL 45 | 500 |
| GOLTY EUFORIA 2.0 | LVL 48 | 300 |
| EA/Nike Boot – Hypervenom3 | LVL 50 | 350 |
| Hungarian Scaphandre Coupe de la Ligue | LVL 51 | 300 |
| Nike Mercurial Superfly VI – CR7 Chapter 5 | LVL 51 | 350 |