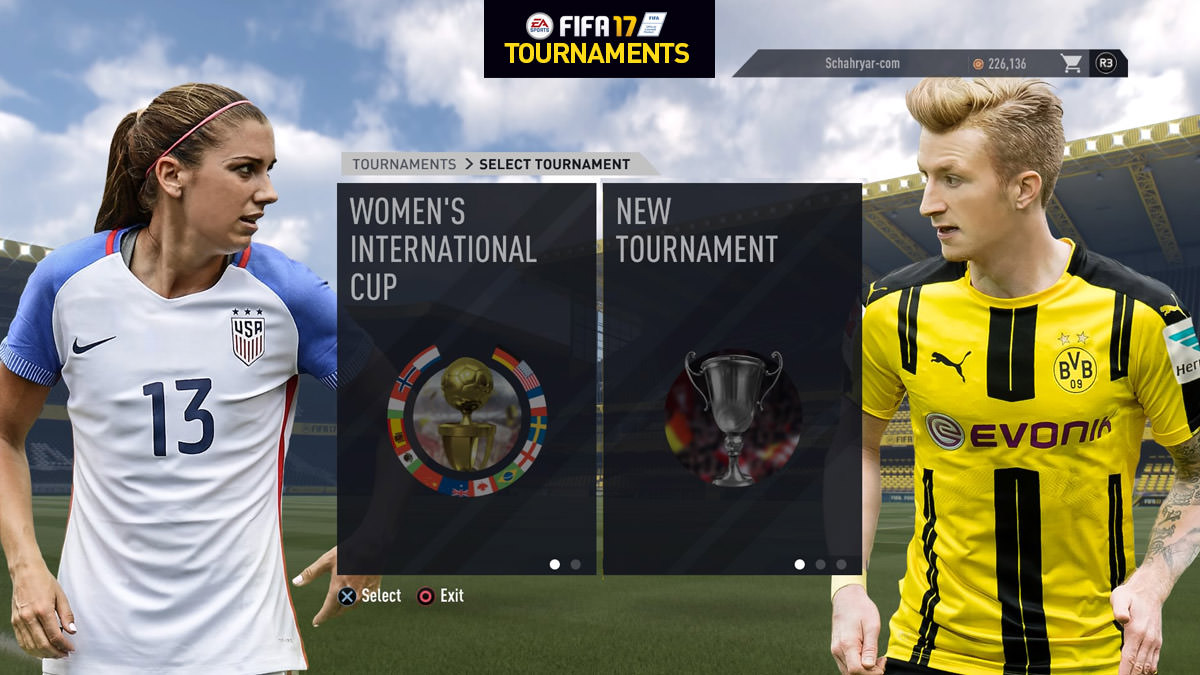 Using FIFA 17 Tournament Mode you can either create your custom tournament or play a preset Tournament.
Are you trying to figure out how to play Premier League, Bundesliga or LaLiga leagues in FIFA 17? Or playing national cups such as FA Cup, DFB Pokal etc? You can play all these leagues and cup tournaments in FIFA 17 Tournament Mode, you also will be able to create your own custom tournament and play a tournament such as UEFA Champions League within this game mode.
How to Play FIFA 17 Tournament Mode
The Tournament Mode (shown as Tournaments) is available in FIFA 17 under PLAY menu.
Load and Save Options
In the Tournament Mode, you can save your tournament progress anytime, so you can load your saved tournament later.
FIFA 17 Tournament Mode options
Tournament List (New Tournament)
FIFA 17 Tournament Mode contains over 60 tournaments from 28 countries. Below is the complete list.
Argentina
– Torneo de Primera
Australia
– Hyundai A-League
Austria
– Ö. Bundesliga
– Österreich-Pokal
Belgium
– Pro League
– Crocky Cup
Brazil
– Liga do Brasil
– Copa Brasileira
Chile
– Chile Apertura
– Chile Clausura
Colombia
– Colombia Apertura
– Colombia Clausura
Denmark
– Alka Superliga
– DBU Pokalen
England
– Premier League
– EFL Cup
– Checkatrade Trophy
– EFL Championship
– EFL League One
– EFL League Two
– The Emirates FA Cup
France
– Ligue 1
– Ligue 2
– Coupe Nationale
– Coupe de Ligue
Germany
– Bundesliga
– 2. Bundesliga
– Deutscher Pokal
Italy
– Calcio A
– Calcio B
– Coppa Nazionale
Japan
– Meiji Yasuda J1
– Levain Cup
Korea Republic
– K LEAGUE Classic
Mexico
– Mexico Apertura
– Mexico Clausura
Netherlands
– Erdivisie
– Oranje Beker
Norway
– Tippeligen
– NM Cupen
Poland
– Ekstraklasa
– Puchar Kraju
Portugal
– Liga NOS
– Taca Portugal
Republic of Ireland
– SSE Airtricity Lge
– EA Sports Cup
Russia
– Russian League
– Rossiyskiy Kubok
Saudi Arabia
– Dawry Jameel
– Crown Prince Cup
Scotland
– Scottish Prem
– Scottish Cup
Spain
– Copa de España
– LaLiga Santander
– Liga 1|2|3
Sweden
– Allsvenskan
– Sveriges Cup
Switzerland
– RSL
– Schweizer Pokal
Turkey
– Süper Lig
United States
– MLS
– U.S. Open Cup
FIFA 17 Custom Tournament
In FIFA 17 you can create your own custom tournament. Here are the types of custom tournament mode.
– League (Maximum number of teams: 24)
– Knockout (Maximum number of teams: 64)
– Group and Knockout (Maximum number of teams: 64)
Women's International Cup
FIFA 17 Tournament Mode has Women's International Cup. Below is the list of countries you can choose.
– Australia
– Canada
– China PR
– England
– France
– Germany
– Italy
– Netherlands
– Norway
– Spain
– Sweden
– United States