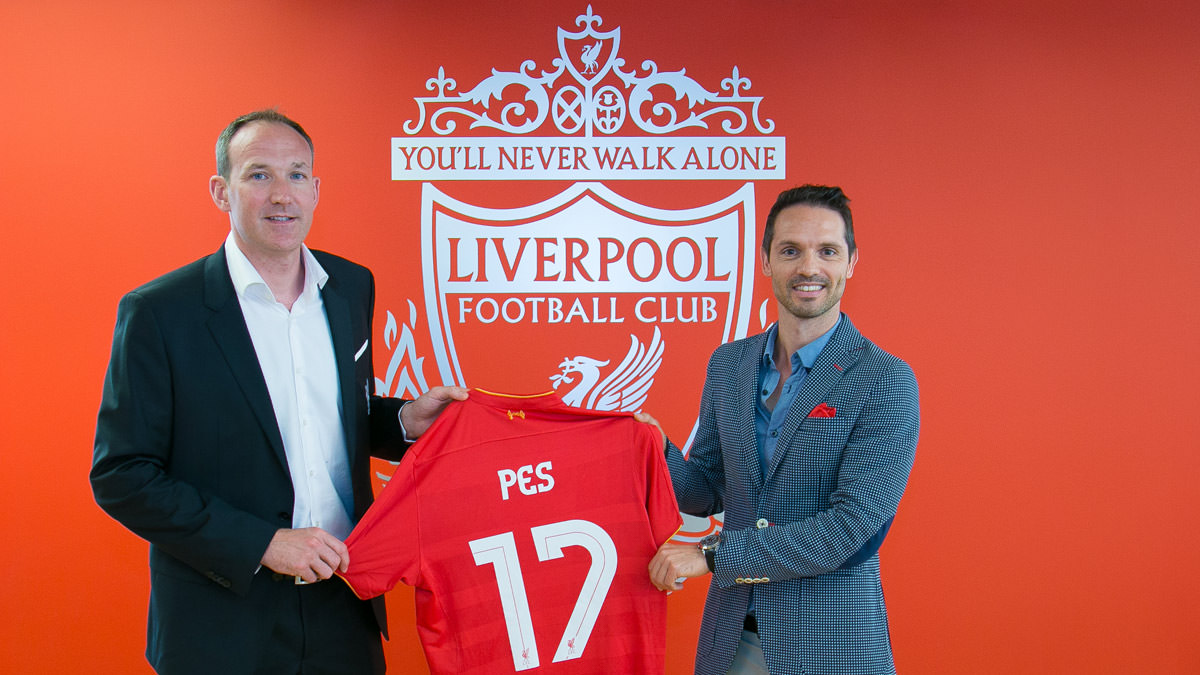 Konami and Liverpool FC announce exclusive agreement as PES 2017 publisher achieves 'Official Partner' status.
Konami Digital Entertainmenthas announced it has achieved 'Official Partner of Liverpool F.C.' status. The publisher of the multiple award-winning PES series of football simulations will feature a fully licensed and incredibly faithful reproduction of the Liverpool F.C. squad, and will offer a series of elements centred on the Anfield-based club, in forthcoming PES titles and related mobile games – the first being PES 2017.
"Konami is committed to working with the very best in modern football, and Liverpool F.C. is the perfect partner," commented Jonas Lygaard, Senior Director of Brand and Business Development at Konami Digital Entertainment B.V. "With its rich history, huge fan base and dynamic style of play implemented by manager Jürgen Klopp, we look forward to working together to ensure that this fantastic club is perfectly reproduced in PES 2017 and all other future PES titles across home and mobile formats. We will get unrivalled access to work with Liverpool F.C. to ensure their players are brought to life in our products, and will also work together in future promotional partnerships as well."
The agreement comes as KONAMI looks to develop its working relationship with the world's biggest clubs. As an 'Official Partner of Liverpool F.C.', KONAMI will have unrivalled access to the first team players. The PES series is famed for its attention to detail and realism. Such access, when combined with KONAMI's Team ID and Player ID systems, will ensure the in-game Liverpool F.C. side will truly replicate the team's overall and individual playing style and those of its players. All related kits will also be replicated within the game, while Anfield – a true icon of British football – will also be authentically reproduced and made available to PES 2017 users within a forthcoming free update. The update will also see the introduction of all the players, the team's famed 'Gegenpressing' playing style will be recreated, and Liverpool's stirring 'You'll Never Walk Alone' anthem will also be featured within the in-game chants and pre-match build-up.
Billy Hogan, Chief Commercial Officer, Liverpool FC, said: "We are delighted to be partnering with KONAMI, whose attention to detail will make sure that Liverpool FC is well represented and will help us to continue to engage with our fans in new and exciting ways. Konami's ability to produce realistic football games that feature players that both look and move like their real-life counterparts is amazing. We cannot wait for our fans to see the Reds line up in the new game in all their glory."
A legend of both English football and the world game, Liverpool F.C. was founded in 1892. They won the English league for the first time in 1901 and have secured it 18 times in total, as well as winning all major local honours multiple times, and lifting the European cup four times in its old format and, memorably, the UEFA Champions League in 2005. The club has been graced by some of the greatest legends in football history, with the likes of Robby Fowler, Ian Rush and Michael Owen amongst those to pull on the famous red shirt. To honour such illustrious figures, KONAMI will run special promotions within its hugely popular myClub mode that will allow fans to add Liverpool F.C. Legends to their home-grown squads. Full details of these will follow shortly.
PES 2017 will be released on September 15th. The new game is founded upon the 'Control Reality' ethos, elevating the series' award-winning gameplay to a new level through incredible new control elements and a new standard of visual realism, without sacrificing what made PES successful in the first place: playing a match with your friends. The industry-leading Fox Engine is again central to elevating the series to new heights, with KONAMI focusing on first touch, the making and receiving of passes, and adaptive AI to elevate the game's acclaimed realism.