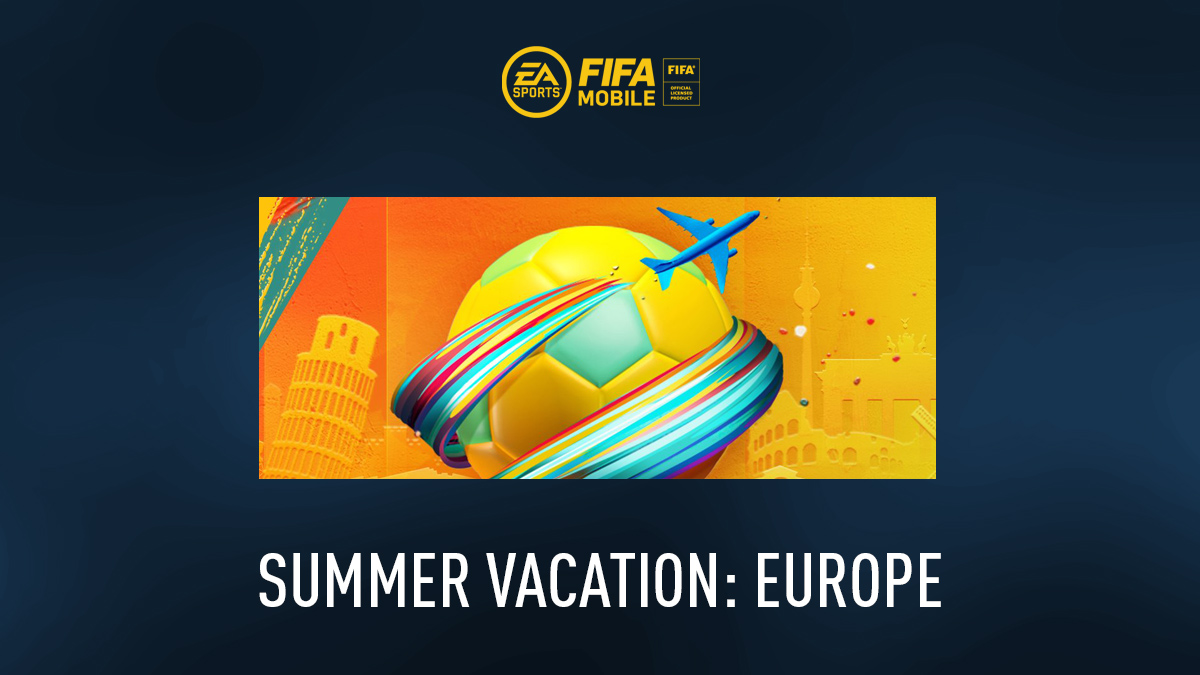 Summer Vacation: Europe event program starts from 14 July 2022 in FIFA Mobile and will take place for 42 days (6 weeks).
There are special rewards and players to be achieved and claimed by playing this program during the Summer Vacation event in FIFA Mobile 22 game.
Get your daily reward by using a player, vacation points, and scouting tokens. For vacation points and scouting tokens, participate in daily skill games and matches. Scout for players during the summer.
Take ownership of players and rewards in flags. To earn Players, complete Weekly Passport Quests, Daily and Weekly Quests. Gain vacation points and scouting tokens by winning national matches. Compete in Challenge Mode to win Scouting Tokens and Vacation Points. For Players, Vacation Points, and Scouting Tokens, go to the Exchanges. Progress through several Passes to receive more rewards overall.
---
Main
Making your way to the Main Chapter and collecting your Daily Claim Rewards is the ideal way to start your quest. You can move down the route by winning each day's skill matches and games. At the end of the course, you have the option to play one of two skill games: a beginner's skill game or an advanced skill game.
You receive Vacation Points for finishing the Normal Skill Game, while Scouting Tokens and a 70+ OVR Base Summer Player are awarded for completing the Expert Skill Games. Make an informed decision because you can only play one of the Normal or Expert Skill Games each day.
---
New Base+ Summer Packs
Base+ Summer Rewards are available in three distinct qualities, each of which can also include summer vacation: England Players. These special awards are available as standalone Player Rewards or in Packs in places like the Star Pass, Store, Daily Claim, and Exchanges. All of the Base+ Summer Packs' players have the potential to be 86+ OVER Summer Vacation: Europe players in addition to being your typical Base Players.
---
Summer Scouting
Let's go summer scouting some players … In this section see the likelihood of getting a Summer Player right away. It displays the likelihood that a Summer Player will be added to your claim. Every time you claim a Base Player, the likelihood of signing a Summer Player increases, and it then resets once you sign a Summer Player. Players are first scouted in Stage 1. By claiming 7 Summer Scouting Players, you can move on to Stage 2.
When Stage 1 is finished, it becomes locked, and you can only claim higher stage players and higher OVRs; Stage 1 players are no longer eligible. Your Scouting Tokens will last the duration of the tournament, however the Summer Players, Milestones, Player Probability, and Scouting Stage will change every two weeks.
---
Flags
You came upon a trail with several flags while on your sightseeing tour, and it was full of great Summer Players and Rewards like Skill Boosts and Scouting Tokens.
You can use your accumulated Vacation Points here, but bear in mind that the Flag Path is only accessible for the first three weeks of the event before closing forever on August 4 UTC. After that, a new road using a new currency will take the place of the Flag Path. You advance toward the Milestones by using your vacation points.
---
Summer Passport
By completing Weekly Quests, you can fill up your Summer Passport. After completing them, go to the Summer Passport to receive your rewards.
---
National Matches
It's time to compete against the National Teams for Vacation Points and Scouting Tokens once you've scouted players, completed your passport, and travelled past several Flags. Every day from Thursday to Sunday, new National Matches become available for play until the following Thursday. The National Matches are yours to play whenever you want; you may even play them all on the same day. To obtain a Summer Player, finish all matches within a week.
---
Challenge Mode
From Monday through Wednesday, Summer Vacation: Europe will feature a Challenge Mode! Fill up on Vacation Points and Scouting Tokens by finishing matches. In contrast to the Daily Reset, which occurs at 19:00 UTC, Challenge Mode resets at midnight UTC.
---
Exchange
To aid you on your travels, exchange Summer Players for Rewards. Claim 95 OVR Summer Players, 98 OVR Summer Players, Scouting Tokens, and Vacation Points. At midnight UTC, Exchanges reset just like Challenge Mode.
Look at the table below to learn more about the Summer Player Exchanges, which are only accessible for a brief period of time.
---
Players
Here is the list of player cards for this event:
101 CAM: Cruyff (101): (Skill Boost: Dribbling]
99 CM: Thiago (99) – [Skill Boost: Long Passing]
99 CF: Cantona (99) – [Skill Boost: Finishing]
99 GK: Cech (99)- [(Skill Boost: Number 1]
99 CM: Rui Costa: – [Skill Boost: Vision]
99 CM: Camavinga (99) – [Skill Boost: Vision]
99 CDM: Jorginho (99) – [Skill Boost: Long Passing]
99 GK: Oblak (99) – [Skill Boost: Handling]
99 CB: Pique (99) – [Skill Boost: Defending]
99 CM: Goreztka (99) – [Skill Boost: Vision]
99 CB: Kimpembe (99) – [Skill Boost: Marking]
99 LW: Forsberg (99) – [Skill Boost: Ball Control]
98 CM: Veratti (98) – [Skill Boost: Long Passing]
98 LB: Guerreiro (98) – [Skill Boost: Pace]
98 ST: Ilicic (98) – [Skill Boost: Finishing]
97 ST: Werner (97) – [Skill Boost: Second Striker]
95 ST: Kluivert (95) – [Skill Boost: Second Striker]
95 RM: Figo (95) – [Skill Boost: Long Shots]