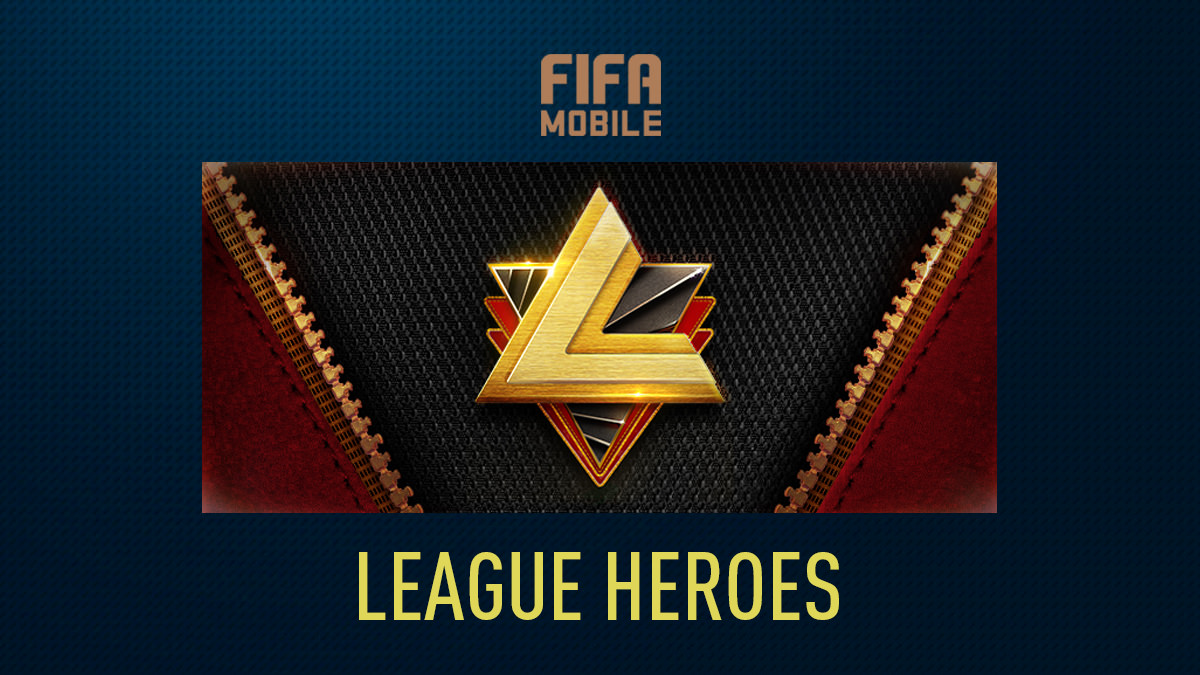 League Heroes event is available in FIFA Mobile from 4 May until the end of the season. This event features a selection of new players as reward.
Event Details
Event Duration: Unlimited
Reset: Every day
Currencies: League Hero Points
OVR Unlocks: 100
Rewards

League Hero Players
XP
Coins
In this event you will be able to play 3 skill games on a daily refresh. Each skill game will reveal a logo, and the more matching logos you have, the better your daily reward will be. After revealing your logos, you can claim your reward that includes specific League Hero Points as a reward, as well as gold or better players if you matched enough logos. League Hero Points are used to claim the players in this event, and they are specific to each of the 4 tiers. The daily rewards after completing all 3 skill games are as follows:
| Final Reward | League Hero Point Rewards | Player Rewards |
| --- | --- | --- |
| No Matching Logo | 3 Points | |
| 2 Logos | 3 Points | 1 Gold Player |
| 3 Logos | 4 Points | 2 Gold Players |
After claiming your League Hero Points, you can use them to claim players in each tier. There are 4 total tiers of players and additionally a couple bonus players. Claimed players no longer will drop those specific League Hero Points. The players, and their costs to claim, are as follows:
Below is the information on the points earned in this event:
Points Rewards
You will earn League Points by playing 3 skill games each day. Each win will display a League Piece on the map. Once all 3 Pieces are displayed, you can claim your reward.
Bonus Rewards
You will earn a bonus reward if at least 2 of the League Pieces on the map are the same.
League Hero Points
League Hero Points are used to claim the players.
League Points
League Points can be spent in the Rewards chapter to unlock League Hero Players. After obtaining a League Hero Player, you will no longer receive League Points for that player.
---
Chapters
League Heroes program features 2 chapters:
Main
In the Main chapter you can play 3 Skill Games every day to earn 4 Points. A League Piece will appear in this chapter after you win a Skill Game. Daily Rewards are available on the right hand side of this chapter's screen.
Rewards
Spend your League Heroes Points in the Rewards chapter to claim players as rewards. Rewards chapter also features some offers such as League Heroes Pack.
---
League Hero Players
Here is the list of League Heoes Players that you can claim in in this event:
CF: Wilson Eduardo (89)
LW: Diego Perotti (88)
CM: Maximilian Arnold (88)
RB: Ricardo Pereira (88)
ST: Bas Dost (88)
CB: Cristian Zapata (90)
GK: Peter Gulácsi (90)
ST: Alexandre Lacazette (90)
RM: Pizzi (90)
ST: Mauro Icardi (92)
CDM: Jorginho (92)
CB: Pepe (92)
CAM: Thomas Müller (94)
LB: Andrew Robertson (94)
LM: Douglas Costa (98)