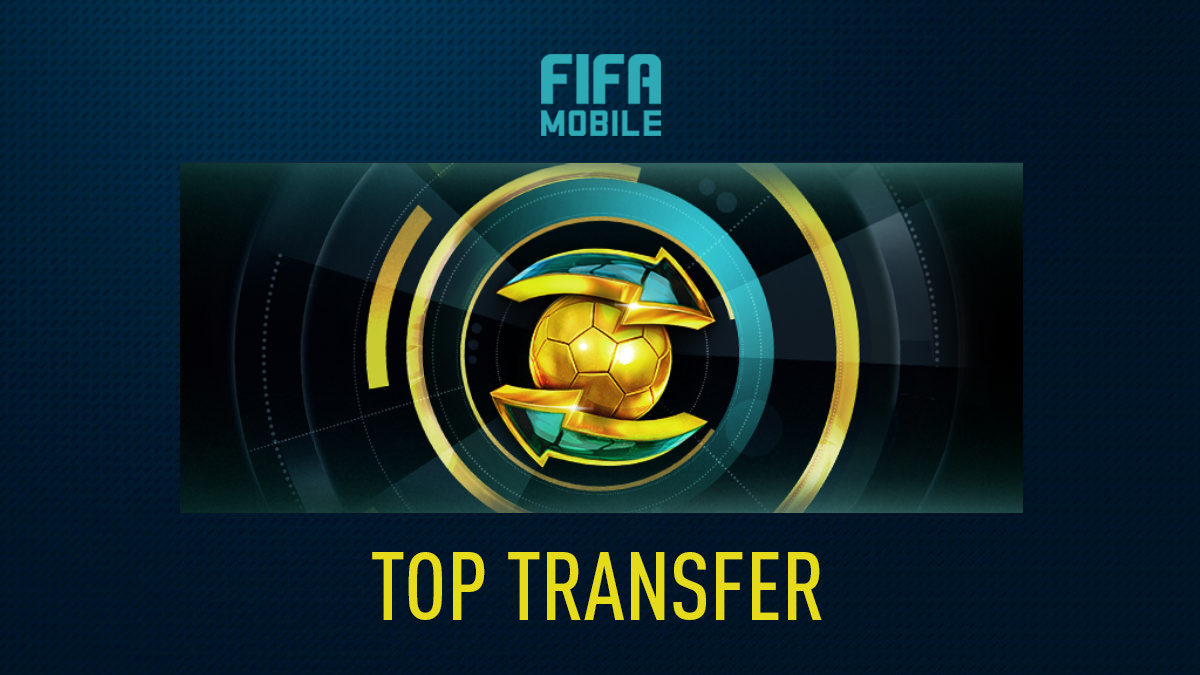 Top Transfer event is available on FIFA Mobile from 30 March to 12 April. This event features the largest transfers.
By playing Top Transfer event you can earn Transfer and Contract Points to claim special rewards such as transfer players.
Top Transfer event's activities and rewards refresh every 12 hours.
---
Event Details
Event Duration: 14 days (30 Mar to 12 Apr)
Reset: Every 12 Hours
Currencies: Top Transfer Points and Contract Points
OVR Unlocks: 95, 96, 98, 99 and 100
Rewards

Training XP
Skill Boosts
Coins
Transfer Players
Prime Icon
---
Transfer Points
Win up to three activities in the Head Office chapter every 12 hours to earn Transfer Points. Transfer Points can be used to redeem rewards in the Reward chapter.
Contract Points
Claim Contract Points after completing your 3 activities. This reward will reset every 12 hours. Spend Contract Points to claim rewards in the Reward chapter which includes specific players and skill boosts.
---
Chapters
Top Transfer program features 2 chapters:
Head Office
In this chapter, you can play 3 activities from the 6 available activities: Skill game, featured match, VS Attack match, Head 2 Head match and watching ad, to earn Transfer Points. By completing the 3 activities you can redeem rewards available on this chapter's screen which includes Contract Points (x50) and some other items. The activities and rewards refresh every 12 hours in this chapter.
Rewards
In the Rewards chapter, you can redeem your Contract Points for special Top transfer offers which include special players and skill boosts. You are also able to watch ad here to earn Contract Points (x5). To claim a Top Transfer player here, you need to have minimum 250 Contract Points. Below is the list of player contract costs based on their OVR:
82 OVER – 250 Contract Points
84 OVER – 300 Contract Points
86 OVER – 400 Contract Points
88 OVER – 500 Contract Points
90 OVER – 1000 Contract Points
91 OVER – 1200 Contract Points
You can also spend your Transfer Points here in this chapter to claim 20 offers such as Top Transfer 80+ Elite Players, skill boosts, contract points, player choice unlock, coins, training XP and Icon player, Van Der Saar (98).
---
Top Transfer Players
Here is the list of Top Transfer Players that you can redeem during the Top Transfer event:
ST: Solanke (85)
CAM: Lainez (86)
RW: Brahim Díaz (87)
LM: Davies (88)
RW: Babel (88)
CAM: Soriano (88)
RB: Clyne (88)
ST: Defoe (88)
RW: Brahim Díaz (87)
CM: Fellaini (89)
LW: Martínez (90)
RM: Cédric (90)
CB: Wöber (91)
LW: Almirón (91)
LM: Bolasie (91)
CM: Tielemans (92)
RW: Gelson Martins (94)
CM: Lucas Paquetá (95)
GK: Viviano (95)
ST: Balotelli (95)
ST: Higuaín (97)
CDM: Paredes (97)
Top Transfer event's actives and offers refresh every 12 hours until the end of the event which is on 12 April 2019.