Defending is essential for playing a successful game in FIFA 18. Here are some defending techniques and tutorials which help you to improve your defending skills in FIFA 18.
---
Master the Controls
Getting familiar with FIFA 18 controls is the key. You can find the full controls list in FIFA 18 here at www.fifplay.com/fifa-18-controls. Get used to all buttons and controls for defending depending on your platform you are playing on.
CONTROLS FOR DEFENDING
| | | |
| --- | --- | --- |
| Action | PlayStation | Xbox / PC |
| Change Player | L1 | LB |
| Switch Player (Manual) | R + direction | RS + direction |
| Tackle/Push or Pull (when chasing) | ◯ | B |
| Sliding Tackle | ▢ | X |
| Clearance | ◯ | B |
| Tackle/Push or Pull/Jockey | L2 (Hold Down) | LT (Hold Down) |
| Contain | X (Press and Hold) | A (Press and Hold) |
| Teammate Contain | R1 (Press and Hold) | RB (Press and Hold) |
| Running Jockey | L2 + R2 (Hold Down) | LT + RT (Hold Down) |
| Pull and Hold (when chasing) | ◯ (Press and Hold) | B (Press and Hold) |
| Quick Get Up (after slide tackle) | ▢ | X |
| Engage Shielding Opponent | L2 + L Towards Dribbler | LT + LS Towards Dribbler |
---
Form Your Best Starting 11
Select your best available defenders in your club for your Starting 11. The OVR rating of a defenders says everything about him! Take note that defending (DEF), tackling, pace (PAC) and heading (HEA), physical (PHY) are the key traits for a defender. Choose four or five of your best defenders with the highest rating for your defending line, as for your CB positions, it would be better to choose defenders with better HEA and tackling ratings. As for LB/RB, go for defenders with better PAC and tackling.
Remember that your midfielders also will help your defenders, so, choosing midfielders with high DEF stat will improve your defensive skills. Having a few Defensive Midfielders (CDM) in your starting eleven is a good idea. If you don't want to have them in your Starting 11, it is recommended to keep them on your bench to use them when necessary.
You can see the complete list of FIFA 18 defenders sorted by their OVR rating here: www.fifplay.com/fifa-18/players/?position=defender
---
Best Formation
It does matter how many defenders you have in your defensive line, but what does matter more is how you're going to manage your defense when your opponent is attacking to your goal. You need to engage not only your defenders but all of your players to prevent receiving goals. Even your strikers should help your team on defending. That means you need to go for a formation that makes YOU comfortable to block your opponent's attacks.
4-1-3-2, 4-3-1-2 or 5-3-2 are suggested as defensive formations as these ones are more dynamic to switch between defense and attack mode. But again, you need to find YOUR best formation.
---
Know Your Weak Points
Once you formed up your team, you need to see how it works and what is your weakness. Go and play offline and online matches – As for online games, it's suggested to play unranked/friendly matches for that purpose.
Pay attentions to your weak points, take note of the ways you concede goals. Whether it's through a header from a cross, or a direct shot, the point is to recognise the holes in your defence for fixing them. Find out what causes you to receive goals, is it a simple mistake or it's about you defending skills? Write them down and make a checklist of it so you can go through them and fix them one by one. That is a key point for improving your defensive skills.
---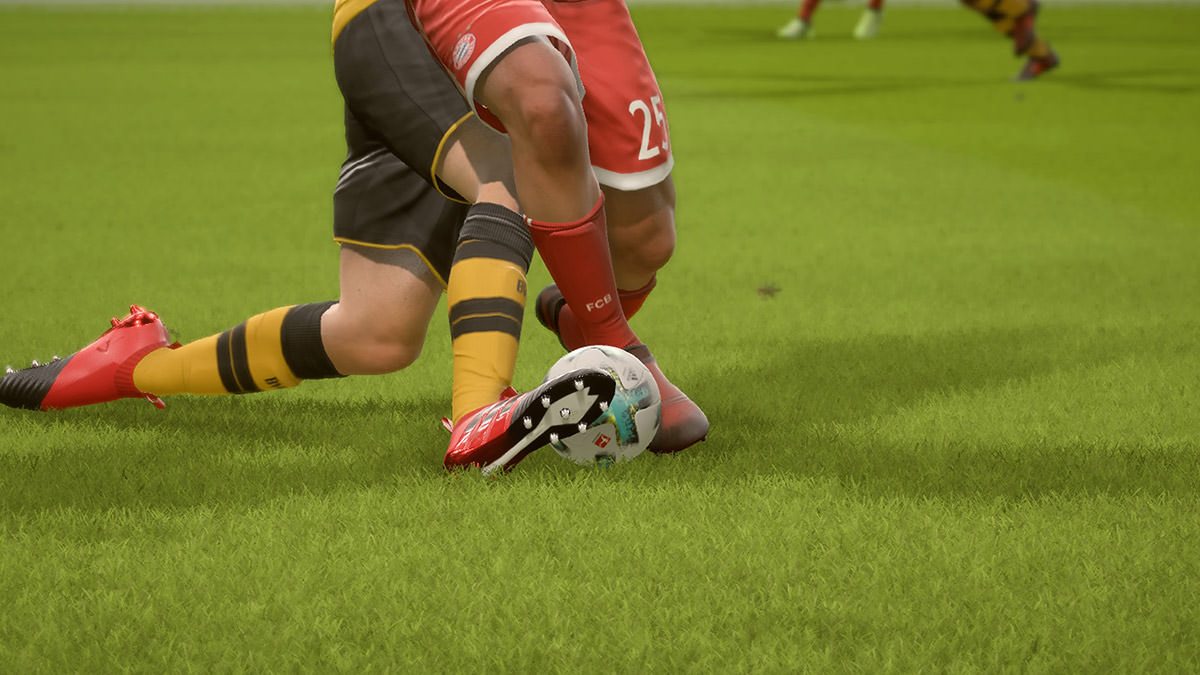 Win the Man-to-man Battles
Try to win the most of man-to-man battles. Block your opponent's dribbling with short tackles, do slide tackles only when you are sure that you're going to touch the ball not your opponent's legs.
Being patient is the key. Even when your opponent's attackers running to your goal with more players than your defenders, you don't need to be stressed and confused. The only thing at that moment would help, is your ability to manage the situation. Give your opponent a hard time, make them confused and narrow down their choices. Remember the time is crucial and you need to buy time to ruin their attacks. Focus on man to man battles and do short tackles to the players who have the ball and block off the ball players as well.
Do jockey to get your teammates involved to the situation. Sometimes, you need to just contain other players and go yourself to a player who is off the ball but is in a better situation to score. Sometimes, you actually don't need to do anything, remember the CPU is controlling your defenders all the time and sometimes it's doing a better job than you would do! So if you leave them to do the defending by themselves, you might finish up with a better result!
---
Win the One-on-one Situations
If you happened to have a striker running on the ball towards your goal with only your goalkeeper, you should be able to manage the situation to prevent a goal. The best way to deal with such a situation is to make your opponent confused. As the attacker runs out of time (since most probably your defenders are running back to him), it would be a good solution to make him not come up with a decision. How? Maybe you can bring your goalie forward, but this method doesn't always work, because the striker can make an easy goal by a simple cheap shot. So, the point is to make the striker unsure for what he is going to do. I usually bring my goalie halfway out to make striker confused. Most of the times it works. I bring the keeper off the line, but not very far from the goal post, so my opponent thinks that I'm gonna bring him all the way to go to his legs, so he makes a choice by either having a strong shot or a cheap shot – which usually neither of them is successful as my goalie isn't far from the goal.
---
Keep Learning
Keep improving your defending skills by learning and practicing. Here we have collected a bunch of tutorial videos from the web created by FIFA 18 experts. Watch there videos by clicking on them and improve your defending abilities in FIFA 18: