How to Make Coins in FUT 15 – FIFA 15 Ultimate Team Coins Making Guide
In this article, we review some easy coin making tips in FUT 15. With this tutorial you will learn how to earn a lot of coins in a simple way and without spending real money. There are many options to earn coins fast in FIFA 15 UT. Here we go through some of them:
Play and Complete Matches
---
Playing and finishing any type of matches will cause you earn coins. Make sure you complete the matches you are going to play. Do not leave a game even when you're losing it, even a loss gives you some amount of FIFA coins as for match rewards. You can see how many coins you have earned with details in Match Awards list after completing a match.
You will earn coins for goals you scored, corner kicks, match possession percentage, shots on target, clean sheets, man of the match winner, successful tackles and pass accuracy percentage. But, offsides, goals against, fouls and cards also will cause you coins reduction.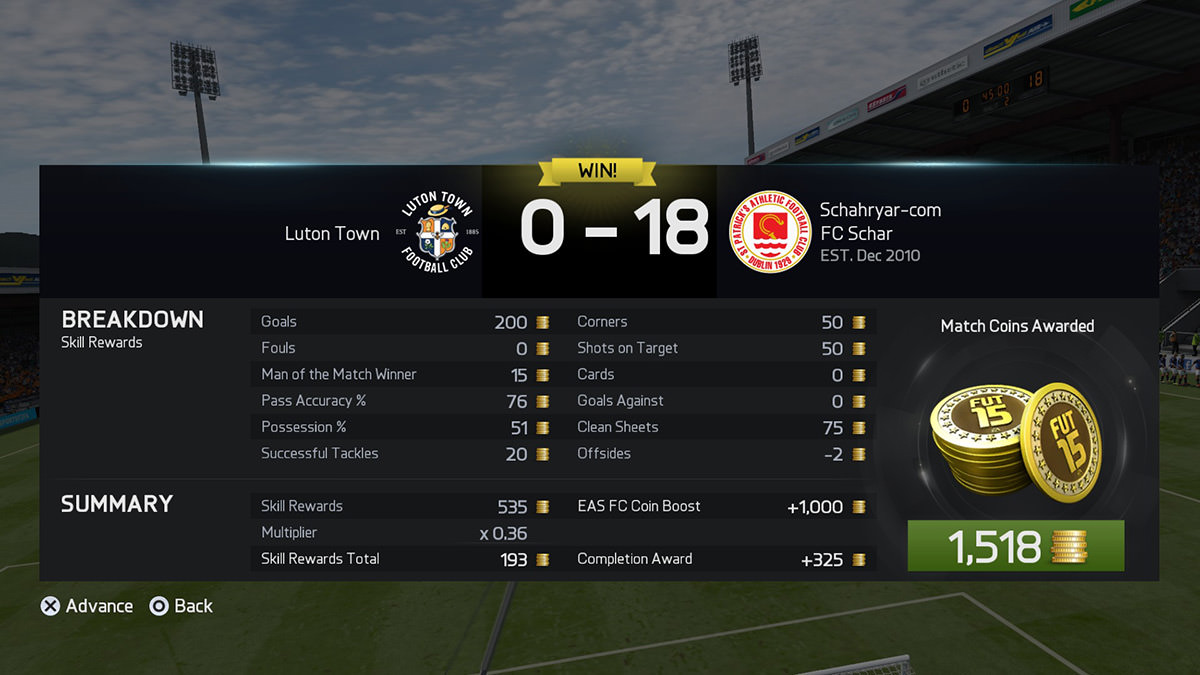 Play single player (offline) season and tournament matches. By finishing tournaments and seasons you will earn coin awards – no matter if you are eliminated, relegated, held in the current season or promoted. Set your difficulty level to low (amateur, semi-pro etc.) if you're not able to beat the AI, however in higher divisions and tournaments you have to play in high level of difficulties.
Playing against the Team of the Week (TOTW) will also give you coins. If you win against an active TOTW match, you will make coins from 150 to 1000 coins (depending on the difficulty level you choose).
Here is a trick to take the challenge against the Team of the Week: Start playing with the highest level of difficulty which is the "Ultimate". If you cannot beat it, then go down (try Legendary), if you still cannot beat them, go for Professional and so on. This will let you earn coins until you complete the Team of the Week challenge. You should go from the highest to the lowest.
Buy the Coin Making Items from the Catalogue
---
At EA Sports FC Catalogue you can get FUT Coin Reward Boosts which will give you additional FUT coins for your next matches. After buying FUT Coin Reward Boosts by spending FCC, it will automatically add coins to your rewards after a certain number of your next matches – the number of matches depends on the boost item you buy.
To do so, go to the Catalogue window, then to Ultimate Team tab. There, depends on your FCC (Football Club Credits) and the level you have reached, you will see your unlock items. Look for the "FUT Coin Reward Boosts". Once you move over the item, it shows the details at the right hand side window, which says how many FUT coins you will get for how many matches and how many FCC you need to spend on that item. BTW, your FCC number is visible on the top right of your screen – at Notification panel.
There are also some UT tradeable items at Football Club > Catalogue > Gameplay section, they are Ball and Kit Bundles. Yes, you are able to trade these items on FUT Transfer Market once redeemed.
Trade Players and Other Items
---
Trading players is also a good way to earn coins in Ultimate Team. The simplest way to do so is to buy a player card and sell it for a higher price. Keep in mind that EA is taking a 5% taxation from each selling transaction, so once an item is sold on transfer market, five percent of it goes to EA. That means to profit from a transaction, your benefit should be more than 5%, otherwise you will lose coins.
Check out our FUT Tax Calculator which helps you calculate EA tax before you do your actual transaction – URL: www.fifplay.com/fut-tax-calculator
Besides trading players, trading other cards and items are also useful to make virtual money (coins). Manager cards are also good to trade with. Sometimes, you can find some manager cards with a low Buy Now price. For example, once I found a Juergen Klinsmann card for 200 Buy Now price, I managed to buy it and sold it for 2200 coins. I guess the owner didn't have any idea what was happening, perhaps because he didn't know much about the managers and manager cards or something like that.
Here are some common and easy ways to trade player and other cards for making coins:
The One Hour Transfer Window
Usually, people put their items on the Transfer Market for one hour as the minimum auction time is an hour. This opportunity allows you to get many players and other items for a cheaper price. The thing you need to do is to go to Transfer Market and check item's Remaining Time. Go to the cards that have 59 minutes left – To do so, you need to scroll the page a lot – So, be patient. Then see the good players/items with low Buy Now price, then buy them and re-sell them for higher prices.
Buy to Quick Sell
Some cheap players or items that you can find on transfer markets are actually offered with a cheaper price than their Quick Sell values. For example, players with 78 overall ratings can be quick sold for 312 coins. So, if you see a 78 player card on the market with 300 coins or even below, buy it immediately, because, by quick selling them you can still earn money fast. Check out also our FUT Quick Sell Prices to find out all cards quick sell values – URL: www.fifplay.com/fut-15-quick-sell-values
– FUT 15
– FUT 15 Tips
– FUT 15 TOTW
– FUT 15 Web App
– FUT 15 Mobile App
– FIFA 15 Ultimate Team FAQ
– FIFA Ultimate Team Glossary