FIFA 19 is the video game that is designed by taking inspiration from FIFA football games. You can have details about all the aspects of that FIFA 19 game through this cheap college essay. As this essay is solely written about this video game. So that before purchasing the game players can have an idea about what this game is about and how you are going to play this. This game was developed by EA Vancouver and EA Bucharest as the part of electronic arts, FIFA series. They have announced this game in the press conference on 6 June 2018.
This FIFA 19 game was released on 28 September 2018 for PlayStation 3, PlayStation 4, Xbox 360, Xbox One, Nintendo Switch, and Microsoft Windows. In FIFA 18 Cristiano Ronaldo was portrayed as the cover athlete of the regular edition. Cristiano Ronaldo and Neymar appear on the Champions and Ultimate Edition packs for the game. This FIFA 19 is the 26th installment in the FIFA series. This game presents the UEFA club competitions for the first time, including UEFA Champion league. Martin Tyler and Alan Smith return as a regular commentator, while the new commentary team of Derek Rae and Lee Dixon feature in UEFA competitions mode.
There is a composer Hans Zimmer and rapper Vince Staples they have recorded a new remix of UEFA champions league anthem. This anthem is created specifically for this game. The character of Alex Hunter first appeared in FIFA 17, then this character returns back for the third and final installment of "The Journey ", entitled "The Journey: Champions".
Gameplay
The gameplay changes over time with increasing quality and advancement in technology. There are different differences among older versions of FIFA as compared to FIFA 19. there is a new Active Touch System in FIFA 19 which was not present in previous versions. There is a strong player control in FIFA 19. Additionally, there is a timed finishing in which the kick button may be pressed a second time to determine the exact moment when the ball is actually kicked. In FIFA 19 there is also 50/50 battles that are the system for determining how the player will win loose balls. Other than 50/50 battles there are also dynamic tactics, which allows players to configure and devise strategies and can also switch between all the strategies in real time during the game.
FIFA 19 introduces the UEFA Champions League, UEFA Europa League, and UEFA Super Cup competitions to the game. The game will also have support for promotion and relegation between the Champions League and Europa league. Geoff Shreeves returns as the touchline reporter as well as Alan Mclnally providing updates from around the league. This helps the players to know all the details and updates about the leagues and competitions. New graphics and stadiums are also implemented along with every update in the game. The new anthem generated by the composers can also listen in the trailer of the game.
It is reported that this game includes 55 national teams with 35 licensed leagues. It was confirmed that the game would have a licensed series A after being called as Calcio A due to licensing issues in FIFA 17 and FIFA 18. The game will also include Chinese super league however, it was confirmed that the game will not include the Russian Premier League.
In every new FIFA game, there are advanced skills and moves available for players. The new master move in the game is by Andres Iniesta's. 25 new icons are added in FIFA 19 some of which are Rivaldo, Roberto Baggio, and George Best. There are also new goal celebrations added in the game which make it more pleasing and gives an excellent experience. These celebrations include Kylian Mbappe's little brother, Roberto Firmino's Matador and Mohamed Salah performing Sujud. In addition to all these celebrations, there are also Cristiano Ronaldo and his nearest teammate both perform Ronaldo's trademark Siii jump together.
There are also some new stadiums introduced in FIFA 19 in which there is Tottenham Hotspur Stadium, Molineux Stadium, Craven Cottage and Home of Fulham.
There are all 20 English Premier League grounds featured, 16 new stadiums from the Spanish La Liga with 3 more from the Spanish Segunda Division. The only absent stadium in the FIFA 19 is Camp Nou, this is due to Barcelona's exclusive deal with rival game Pro Evolution Soccer 2019. the PlayStation 3 and Xbox 360 versions Known as FIFA 19 do not have any new gameplay features other than updated kits and squads.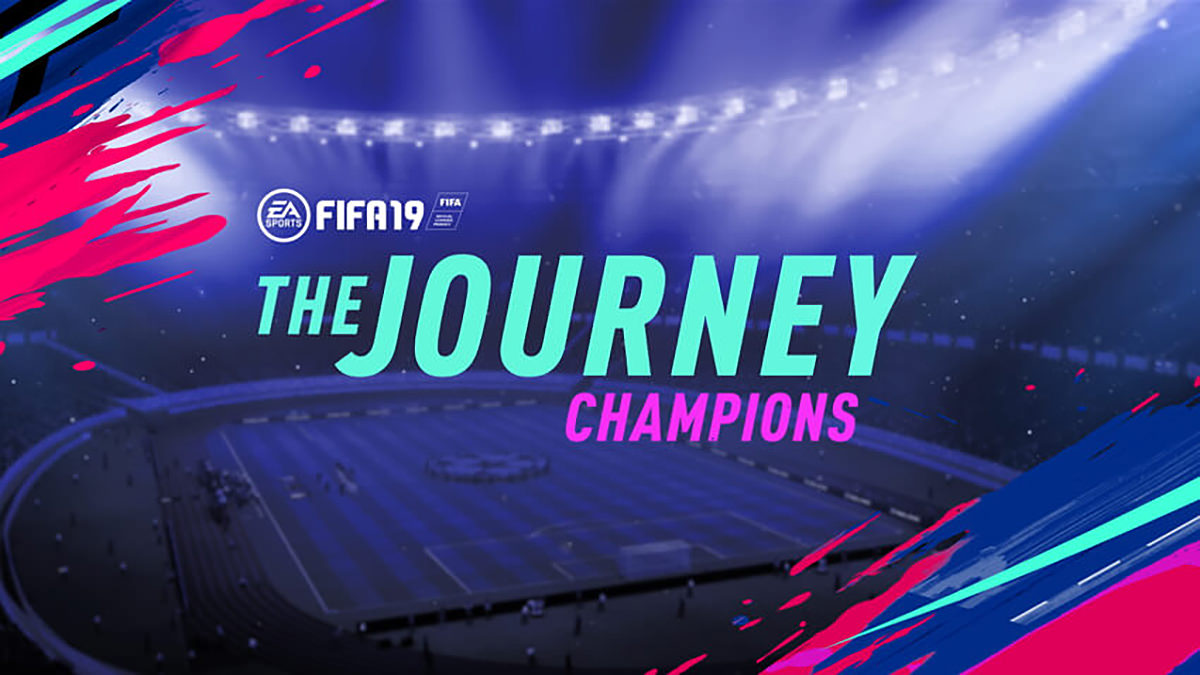 The Journey: Champions
In FIFA 17 there was a story mode introduced it returns in installments and continues for the last installments under the title of The Journey: Champion. In this specific installment, Alex Hunter signs for Real Madrid to become the star player after the Ronaldo leaves for Juventus. As we have discussed before that FIFA 19 is the licensed Champion league so in this Hunter also competes for Champions League glory. In this version, Danny Williams returns back and try to make his name for himself and compete for Champions League Hardware. Alex Hunter's half-sister the Kim Hunter try to compete for 2019 FIFA Women's World Cup. There are also some guest stars in the game including Kevin De Bruyne, Neymar Jr, Paulo Dybala, and Alex Morgan. Gareth Walker and Dino they both appeared in FIFA 17 and FIFA 18 are not seen in this FIFA 19.
This FIFA 19 is starts from the recap as Alex Hunter and Danny Williams are watching an old tape of Hunter's grandfather who participated in 1969 match. Then they start training with their respective teams for the pre-season friendly tournament held in Japan. This recap ends up in both of their teams facing each other for a tournament.