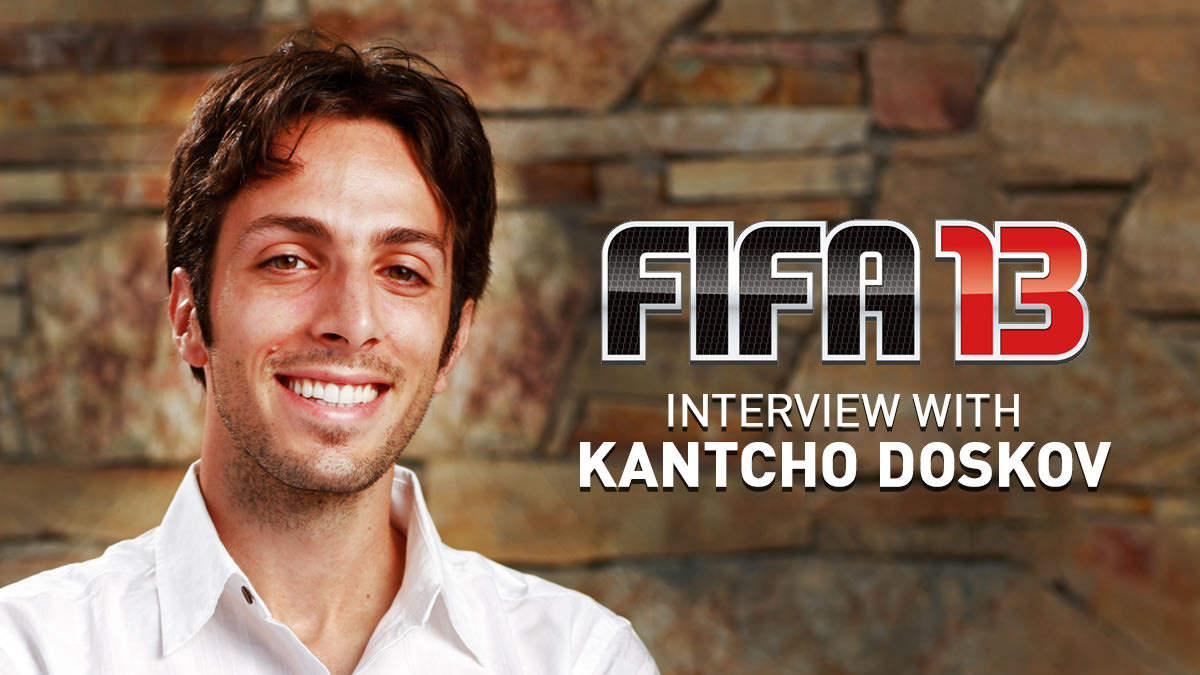 Kantcho Doskov is a gameplay producer on FIFA 13, where he is responsible for designing and implementing core gameplay features, working with engineers and animators to ensure that the vision and quality are achieved. On FIFA 13, Doskov has been responsible for designing First Touch Control and Complete Dribbling.
As a core member of the FIFA team the past six years, Doskov has helped shape FIFA's award-winning gameplay. The franchise has received over 200 international awards and honors since 2010. Over the years, Doskov has been responsible for many of the core gameplay additions and enhancements in fundamental areas like shooting and passing, including development of Pro Passing in FIFA 11, and he was an integral part of the team that developed Tactical Defending in FIFA 12.
Doskov originally joined EA Canada to work in the EA Capture studio, before moving into game development as an animator on the FIFA franchise a short time later. A well-known freestyle footballer, Doskov was a finalist at the Canadian Freestyle Football Championships in 2008. Many of his footy skills and trick moves have been performed in the EA Capture studio, becoming the virtual moves for players in FIFA and FIFA Street.
Born in Sofia, Bulgaria, raised in London, and now living in Vancouver, Doskov was an Arsenal supporter as a youth but he now cheers for FC Barcelona. Doskov attended Emily Carr University of Art and Design, specializing in animation.
Here are some of our questions for Kantcho regarding FIFA 13 and the future of FIFA:
How would you see FIFA game in 5 years?
Kantcho Doskov: Our goal each year is to make not just the best football game but the best game, period. So we are going to continue to push the boundaries of innovation and quality to make a great playing game. And since we get our inspiration from football, and every game something happens that sparks an idea or starts a conversation, we'll never run out of ideas. As you know, we also have a very vocal fan base and they let us know what they like, what they don't like, what they want, and what they find frustrating, and we make sure we address and prioritize as many of these items as we can to make our fans happy.
What is your strategy when you are playing FIFA 13?
Kantcho Doskov: My strategy when playing FIFA 13 is to be patient and build up play from the back. I'll often switch the play from one side of the field to the other using a combination of short passes or the occasional long ball. When the ball is out on the wing, I'll try to take my opponent on 1v1 so I can get a cross in. If I'm tightly marked I might play a one-two pass to get in behind the defense, other times I'll just play the ball back and to look for another opening. When defending, I like to use contain for the most part and I'll occasionally use the secondary contain to put more pressure on my opponent when he's in dangerous areas of the field, especially when in the box.
Do you have any tips to suggest to FIFA 13 fans to score goals?
Kantcho Doskov: I think the best way to score goals in Fifa 13 is to vary your attacks so that your opponent is never quite sure what you're going to do. For example, sometimes I'll run down the wing and send in a cross to the far post, other times I'll fake the cross and cut back to lay the ball off for a first time shot, or sometimes I'll just whip in a dangerous pass across the face of the goal. In general, if you vary your attacks you'll be less predictable and it'll be more difficult for your opponents to read your game, which will give you more chances to score.
Do you have any go to moves when playing?
Kantcho Doskov: When I'm out on the wing with a skillful player, I find it very useful to use the new Precision 2.0 dribbling by holding RB to come to a stop and then use the left stick to take quick touches from side to side. If the defender commits one way, you can get past him by sprinting in the other direction if your timing is right. The other new dribbling technique that works quite well is to hold the LT+RT triggers in order to face up to your opponent while dribbling, this can be very effective when taking on an opponent 1v1.
Do you play FUT and if yes, what is the makeup of your team?
Kantcho Doskov: I do play FUT, both online and offline. My team isn't the strongest in terms of individual ability but they do have great chemistry. My wingers have good pace and have 5 star skill move ability as I like taking on defenders 1v1. The key thing about my strikers is that they are good with both feet (5 star weak foot ability) so that they can make the most of their chances in any situation.
Referee mode in FIFA, do you think it's possible?
Kantcho Doskov: Referee Mode is a suggestion that has come up several times from the community and we have discussed as a team, but at the moment it is not something that we are considering.
Do you personally read FIFA fans comments submitted on FIFA communities?
Kantcho Doskov: Listening to fan feedback is something we do more and more every year. I personally do read comments on FIFPlay, as well as other community sites like Fifa Soccer Blog, along with several Fifa specific channels on YouTube. It's very import for us to listen to all the feedback and suggestions from the community as it helps us to focus on what's most important in order to make Fifa a better game.